Ethyl Butyrate
Naturelle - Synthétique
CAS N° :
105-54-4
Fruity > Tropical Fruits > Butyric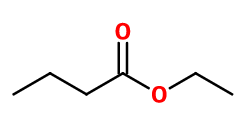 Crédits photo: ScenTree SAS
Other names :

Ethyl Butanoate ; Butyric acid ethyl ester ; Butyric ester
Volatility :

Head
Uses in perfumery :

Ethyl Butyrate is used to ''redden '' fruity notes, which means making them more ripe. Used in pineapple and exotic fruit combinations.
Natural availability :

Ethyl Butyrate is present in apple, banana, Tagetes EO, kiwi, pineapple and many other vegetables. It can be obtained in its natural state only from plants from which an extract can be obtained.
Year of discovery :

Data not available.
Other comments :

Butyrates are reminiscent of ripe fruits, meanwhile caproates are more evoking foody and cheesy smells. This is the difference that can be made between Ethyl Butyrate and Ethyl Caproate for example.
Price Range :

€
Stability :

May form butyric acid through time.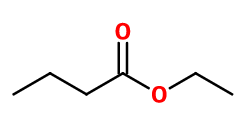 Crédits photo: ScenTree SAS
Molecular formula :

C6H12O2

Molecular Weight :

116,18 g/mol

Density :

0,879

Flash Point :

26°C

Fusion Point :

-101°C
Appearance :

Colorless liquid

Log P :

1,7

Boiling Point :

120°C

Detection Threshold :

Donnée indisponible.
Synthesis route :

Ethyl Butyrate is synthesized by an esterification reaction between butyric acid and Ethanol by acid catalysis.
Synthesis precursor :

Ethyl Butyrate is not a precursor to the synthesis of another compound of olfactory interest.
Isomerism :

Caproic acid is a constitutional isomer of Ethyl Butyrate. It also has a butyric and cheesy note.
EINECS number :

203-306-4

FEMA number :

2427

JECFA number :

29

FLAVIS number :

09.039

Allergens :

This ingredient does not contain any allergen.

IFRA :

This ingredient is not restricted
To learn more about IFRA's standards : https://ifrafragrance.org/safe-use/library
ScenTree is solely responsible for the information provided here.