Cis-3-Hexenol
Naturelle - Synthétique
CAS N° :
928-96-1
Green > Cut Grass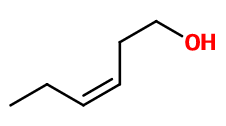 Crédits photo: ScenTree SAS
Other names :

Pipol ; Aleol ; Blatteralkohol ; Green leaf alcohol ; Cis- hex-3-en-1-ol ; Cis 3- hexanol ; Leaf alcohol
Volatility :

Head
Uses in perfumery :

Cis-3-Hexenol gives a head to floral and fruity notes. Used for the reconstitution of cut grass notes, usable in all types of perfumes.
Natural availability :

Cis-3-Hexenol is present in grass, leaves, fruits (not ripe), apple and Lemongrass EO among others. It can be extracted from many plants. For example, acacia or white mulberry leaves contain more than 50% of this compound.
Year of discovery :

1938
Other comments :

Cis-3-Hexenol is the typical green note. Thanks to it neutral cut grass smell, it is widely used.
Price Range :

€
Stability :

Stable in perfumes and diverse functional bases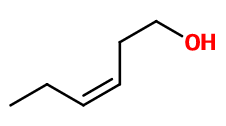 Crédits photo: ScenTree SAS
Molecular formula :

C6H12O

Molecular Weight :

100,16 g/mol

Density :

0,848

Flash Point :

44°C

Fusion Point :

Donnée indisponible.
Appearance :

Colorless liquid

Log P :

1

Boiling Point :

157°C

Detection Threshold :

De l'ordre de 70 ppb (0,000007%)
Synthesis route :

A synthesis of cis-3-Hexenol consists of three steps. The first one is an ethylation reaction of sodium ethylide into butyne. Then, a reaction with ethylene oxide gives 3-Hexyn-1-ol. This intermediate product is subjected to a hydrogenation reaction, catalysed by palladium. Nowadays, several biochemical synthesis processes gradually replace the organic synthesis processes.
Synthesis precursor :

Cis-3-Hexenol is a precursor for the synthesis of several compounds of olfactory interest. For example, several of its esters such as cis-3-Hexenyl acetate or cis-3-Hexenyl Benzoate are obtained by esterification with the suitable acid, in the presence of an acid catalyst.
Isomerism :

Cis-3-Hexenol has a double bond that gives rise to two diastereoisomers of this molecule. Thus, there is trans-3-Hexenol, which has a more floral and petal smell. Trans-2-Hexenol is a positional isomer of cis-3-Hexenol because its double bond is simply delocalized. Both have a very green smell, although trans-2-Hexenol is fruty.
EINECS number :

213-192-8

FEMA number :

2563

JECFA number :

315

FLAVIS number :

02.056

Allergens :

This ingredient does not contain any allergen.

IFRA :

This ingredient is not restricted
To learn more about IFRA's standards : https://ifrafragrance.org/safe-use/library
ScenTree is solely responsible for the information provided here.