Camphor
Naturelle - Synthétique
CAS N° :
76-22-2
Herbal > Camphoric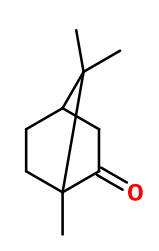 Crédits photo: ScenTree SAS
Other names :

1,7,7-trimethylbicyclo[2.2.1]heptan-2-one ; Alphanon ; Bornan-2-one ; 2-oxo-bornane ; 2-bornanone ; 2-camphanone ; Root bark oil ; 1,7,7-trimethyl norcamphor ; 1,7,7-trimethylnorbornan-2-one
Volatility :

Head
Uses in perfumery :

Camphor is used for a fresh and terpenic effect in all types of compositions.
Natural availability :

Camphor is found in many plants such as basil (camphorated chemotype), camphor sage and Cardamom EO among others. The Camphor tree HE (same species as HoWood EO) remains its main source in its natural state.
Year of discovery :

1904
Other comments :

Camphor is a 'trigeminal' raw material. This means that it involves the trigeminal nerve, responsible for a motor and sensitive function for humans. In the case of Camphor, smelling it gives the nose a sensation of cold.
Price Range :

€€
Stability :

Stable in perfumes and diverse functional bases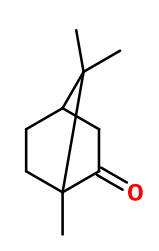 Crédits photo: ScenTree SAS
Molecular formula :

C10H16O

Molecular Weight :

152,23 g/mol

Density :

0,992

Flash Point :

64°C

Fusion Point :

176°C
Appearance :

White solid

Log P :

2,41

Boiling Point :

204°C

Detection Threshold :

Donnée indisponible.
Synthesis route :

Camphor is produced by a fractional distillation of Camphor Leaf EO. Its synthesis is made by dehydration of isoborneol, which has been synthesized from Isobornyl acetate. This dehydrogenation is done thanks to a copper catalysis.
Synthesis precursor :

Camphor is an intermediate in the synthesis of Camphene and Borneol, among others.
Isomerism :

There are two enantiomers of Camphor, both very present in nature. The most common is Camphor (+), dextrorotatory. It is very often this one that is used in perfumery. Citral and Isocyclocitral® are constitutional isomers of Camphor. Their smell is however very different: one is citraly, the other is green.
EINECS number :

200-945-0

FEMA number :

4513

JECFA number :

Donnée indisponible.

FLAVIS number :

Donnée indisponible.

Allergens :

This ingredient does not contain any allergen.

IFRA :

This ingredient is not restricted
To learn more about IFRA's standards : https://ifrafragrance.org/safe-use/library
ScenTree is solely responsible for the information provided here.