Borneol
Naturelle - Synthétique
CAS N° :
464-45-9 / 507-70-0
Herbal > Camphoric > Coniferous > Agrestic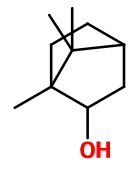 Crédits photo: ScenTree SAS
Other names :

Bornanol ; (1S,4R,6R)-1,7,7-trimethylbicyclo[2.2.1]heptan-6-ol ; Camphanol ; Camphol ; Hydroxybornane ; 1,7,7-trimetyl bicyclo(2.2.1)heptan-2-ol
Volatility :

Head
Uses in perfumery :

Borneol is used in lavender reproductions, in terpenic and coniferous notes to bring a top note and a cold effect starting from the top.
Natural availability :

Borneol is present in several natural compounds, including Lavender EO, Pinaceae essential oils and Lemongrass EO among others. The synthesis of this compound is preferred to its extraction, as it is not present in sufficient quantities in the essential oils.
Year of discovery :

Data not available.
Other comments :

Borneol is more used than Camphor in perfumery, with a relatively similar olfactory effect. Borneol is a 'trigeminal' raw material. This means, it involves the trigeminal nerve, responsible for a motor and sensitive function for humans. In the case of Borneol, smelling it gives the nose a sensation of cold.
Price Range :

€€
Stability :

Terpenes tend to polymerize by oxydation. For Borneol, its stability is satisfying because it doesn't have any double bond.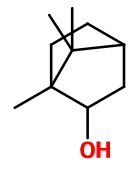 Crédits photo: ScenTree SAS
Molecular formula :

C10H18O

Molecular Weight :

154,25 g/mol

Density :

0,986

Flash Point :

66°C

Fusion Point :

207°C
Appearance :

White solid

Log P :

Donnée indisponible,

Boiling Point :

210°C

Detection Threshold :

140 ppb
Synthesis route :

The synthesis of Borneol is made from beta-Pinene, by a Wagner-Meerwein rearrangement, putting pinene in contact with acetic acid. The latter forms an acetate which is derived. Then, an alkaline hydrolysis takes place with this compound using potash, to replace this acid group with an alcohol group, in order to form the final Borneol (in parallel, the potassium acetate that has formed is removed).
Synthesis precursor :
Isomerism :

The molecule called Borneol is actually the laevorotatory isomer of this molecule. The dextrorotatory isomer is called Isoborneol. The smell of Isoborneol is more balsamic than Borneol. These molecules are used in perfumes for the same reasons. In addition, Borneol is a constitutional isomer of another terpene called Terpineol which smell is much more rosy and etheric, reminiscent of solvents.
EINECS number :

207-353-1

FEMA number :

2157

JECFA number :

1385

FLAVIS number :

02.016

Allergens :

This ingredient does not contain any allergen.

IFRA :

This ingredient is not restricted
To learn more about IFRA's standards : https://ifrafragrance.org/safe-use/library
ScenTree is solely responsible for the information provided here.
Do you sell any of the raw materials? Would you like to let our users know?
Send an email to fournisseurs@scentree.co to learn about our advertising opportunities.