Black Spruce EO
Naturelle
CAS N° :
8008-80-8 // 91722-19-9
Woody > Coniferous > Zesty > Spicy > Camphoric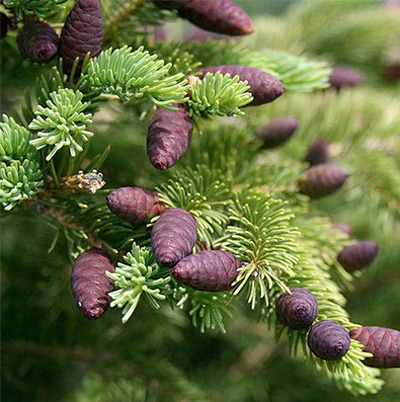 Crédits photo: ScenTree SAS
Latin name :

Picea mariana
Botanical profile :

Black spruce is a coniferous species belonging to the Pinaceae family and the genus picea.
Geographic origin :

This conifer is mainly found in the northern hemisphere and mainly in North America (Canada and USA). These two countries are by far the largest producers of Black Spruce EO in the world.
Chemotypes :

The genus Picea includes about fifty species, only two are used in perfumery.
Picea mariana or Black Spruce - Mainly from North America
Picea abies or Spruce - Coming from Northern Europe.
Extraction process :

Black Spruce oil is obtained by hydrodistillation of the branches and leaves. These parts of the tree are considered as a by-product. Indeed, spruces are mostly cut to obtain construction wood, branches and leaves are then recovered and distilled in order to obtain EO.
Crédits photo: ScenTree SAS

Uses in perfumery :

This essential oil is generally not much used and there is few producers marketing it. It is however interesting to bring a zesty and spicy facet different from other conifers.

Other comments :

Of the forty or so spruce varieties found in the world, Picea mariana is the most resistant to very cold climates, and is found as far as the southern limit of the Arctic tundra.

Volatility :

Heart/Base

Appearance :

Colorless liquid

Stability :

Price Range :

€€€

Aromatherapy :

Informations provided below are taken from reference works in aromatherapy. They are given for information purposes only and can not constitute medical information, nor engage the responsibility of ScenTree.

Black Spruce EO is known to be positive, antispasmodic, anti-infectious, anti-inflammatory.
EINECS number :

294-420-3

FEMA number :

Donnée indisponible.

Allergens :

This ingredient does not contain any allergen.

IFRA :

This ingredient is not restricted
To learn more about IFRA's standards : https://ifrafragrance.org/safe-use/library
ScenTree is solely responsible for the information provided here.