Beta-Caryophyllene
Naturelle - Synthétique
CAS N° :
87-44-5
Woody > Coniferous > Spicy > Earthy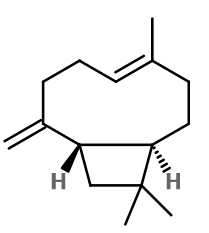 Crédits photo: ScenTree SAS
Other names :

(1R,4E,9S)-4,11,11-trimethyl-8-methylidenebicyclo[7.2.0]undec-4-ene
Volatility :

Head/Heart
Uses in perfumery :

Beta-Caryophyllene is used in green, spicy and woody accords for a deepening effect.
Natural availability :

Several plants contain a large amount of beta-Caryophyllene. Copahu Resinoid contains more than 50% beta-Caryophyllene. Clove Leaf EO contains 5 to 17% and Clove Bud EO contains 5 to 12%, among others. These plants can be used to extract natural beta-Caryophylene.
Year of discovery :

Data not available.
Other comments :

Data not available.
Price Range :

€
Stability :

Terpenes tend to polymerize by oxydation. Not to be used in very alkaline bases as soap.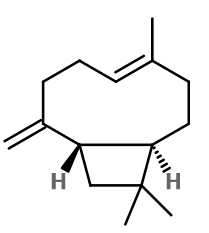 Crédits photo: ScenTree SAS
Molecular formula :

C15H24

Molecular Weight :

204,36 g/mol

Density :

0,994

Flash Point :

96°C

Fusion Point :

Donnée indisponible.
Appearance :

Colorless liquid

Log P :

Donnée indisponible,

Boiling Point :

263°C

Detection Threshold :

64 à 90 ppb (0,000009%)
Synthesis route :

Beta-Caryophyllene is a sesquiterpene. This means that it has three units of Isoprenes. Isoprene is a five carbon atoms diene, constituting a basis for the synthesis of terpenes by Diels-Alder reactions. Thus, Caryophylene can be synthesized from isoprene, or other easily obtainable terpenes, to shorten the synthesis.
Synthesis precursor :

Beta-Caryophyllene can be a precursor to the synthesis of other terpenes, by a Diels-Alder reaction for example.
Isomerism :

In perfumery, the most used Caryophyllene is beta-Caryophyllene. When the unsaturation of this molecule is delocalized, alpha-Caryophyllene (alpha-humulene) and gamma-Caryophyllene have a smell quite similar to the beta isomer: terpenic and sweet at the same time. Valencene is a constitutional isomer of beta-Caryophyllene, although, its smell is more citrus and green.
EINECS number :

201-746-1

FEMA number :

2252

JECFA number :

1324

FLAVIS number :

01.007

Allergens :

This ingredient does not contain any allergen.

IFRA :

This ingredient is not restricted
To learn more about IFRA's standards : https://ifrafragrance.org/safe-use/library
ScenTree is solely responsible for the information provided here.