Ambroxan®
Naturelle - Synthétique
CAS N° :
6790-58-5
Balsamic Ambery > Ambergris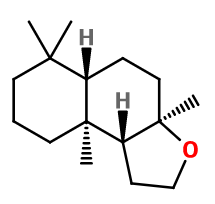 Crédits photo: ScenTree SAS
Other names :

Ambremore® ; Ambermor® ; Ambrox® ; Synambrane® ; Cétalox® (Firmenich SA - 13/05/1993) ; Ambrofix® ; (3aR,5aS,9aS,9bR)-3a,6,6,9a-tetramethyl-2,4,5,5a,7,8,9,9b-octahydro-1H-benzo[e][1]benzofuran ; Amber ether ; Amberxan ; Ambermox ; Amberol ; Ambronica ; Ambroxene ; 8-alpha-12-oxido-13,14,15,16-tetranorlabdane ; Dodecahydrotetramethyl naphtofuran ; Lanbroxyde ; Orcanox ; Superamber
Volatility :

Base
Uses in perfumery :

Ambroxan® brings an animalic and ambery facet with woody notes. Very good fixator. Replaces ambergris since its discovery, for ethical and price concerns.
Natural availability :

Initially, Ambroxan® is present in ambergris which is a whale excretion found dry on beaches. However, it is not extracted. Also, for ethical reasons, ambergris is no longer produced for perfumery. A natural quality of Ambroxan® is used in perfumes : it is called Ambrofix®.
Year of discovery :

Discovered in 1951
Other comments :

Ambroxan® is the major ambery note, since ambergris, a natural dejection of an ill spermwhale, is no longer used in fragrances.
In the perfume vocabulary, amber notes also refer to amber perfumes, which use cistus notes as Cistus EO and Cistus Labdanum Absolute Green.
Ambrofix is the most widely used and most biodegradable ambery molecule.
Price Range :

€€€€
Stability :

Stable in perfumes and diverse functional bases, except some acid cleaners.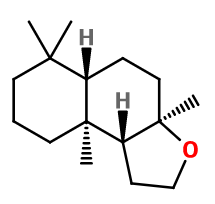 Crédits photo: ScenTree SAS
Molecular formula :

C16H28O

Molecular Weight :

236,4 g/mol

Density :

0,939

Flash Point :

161°C

Fusion Point :

75°C
Appearance :

White solid

Log P :

5,9

Boiling Point :

318 °C (604,4°F) at 1 013 hPa

Detection Threshold :

0,3 ppb (0,00000003% !)
Synthesis route :

Ambroxan® is a molecule synthesized from laevorotatory Sclareol, obtained from Clary Sage Absolute. The first step in this synthesis is to oxidize Sclareol into a lactone called Sclareolide, in its dextrorotatory form. The second is a hydrogenation of this compound into a diol. The last step is dehydration to obtain Ambroxan® (laevorotatory), the final product. Sclareolide in its racemic form can also be obtained by a purely synthetic route. Therefore, its laevorotatory isomer must be separated before the synthesis of Ambroxan®. Nowaday, there is a better process to obtain Ambrofix. This molecule can be obtained throught a unique multi-step bioconversion process starting from sugar cane. This new process is considered as the most sustainable process for Ambrofix in the market.All carbon atoms of the bio-based starting material are ending up in the product – no Carbon wasted leading to optimal carbon efficiency. Also, it needs 100x less land use to produce 1 kg of the Ambrofix compared to the traditional route based on Clary Sage This new bioconversion route maintains the classification as 100% Naturally Derived. ''
Synthesis precursor :

Ambroxan® is not a precursor to the synthesis of another compound of olfactory interest.
Isomerism :

The Ambroxan® most often used in perfumery is the laevorotatory isomer of this molecule. Ambrox DL (dextrorotatory and laevorotatory) refers to a racemic mixture of all the isomers of this molecule. The latter, however, is more unstable, as Ambrox tends to return to its laevorotatory form (L). Ambroxan® is a constitutional isomer of Cedramber®, Muscenone® and Sandela®. Cedramber® and Sandela® also have a woody, even ambery note for Cedramber®, but Muscenone® is a pretty different musk.
EINECS number :

229-861-2

FEMA number :

3471

JECFA number :

Donnée indisponible.

FLAVIS number :

Donnée indisponible.

Allergens :

This ingredient does not contain any allergen.

IFRA :

This ingredient is not restricted
To learn more about IFRA's standards : https://ifrafragrance.org/safe-use/library
ScenTree is solely responsible for the information provided here.