CAS N° :
211299-54-6
Woody > Ambery Woods > Cedar > Ambergris > Icy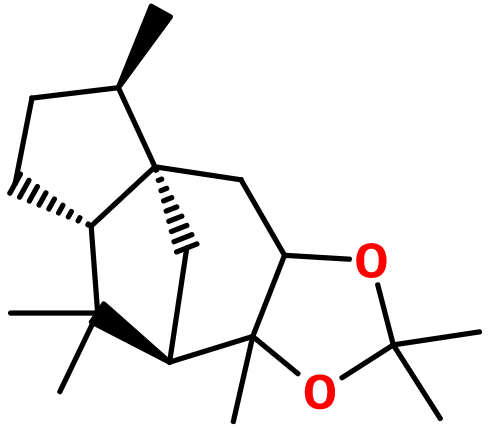 Crédits photo: ScenTree SAS
Other names :

Ambrocenide 10 DPG ; Ambrocenide 10 TEC ; (4aR,5R,7aS,9R)-octahydro-2,2,5,8,8,9a-hexamethyl-4h-4a,9-methanoazuleno(5,6-d)-1,3-dioxide
Volatility :

Base
Uses in perfumery :

Ambrocenide® is known for its very strong woody impact on perfumes. Its brings a very powerful woody note and a heady note to all kinds of perfumes.
Natural availability :

Ambrocenide® is not found in nature and is not extracted from any plant.
Year of discovery :

1997
Other comments :

The structural correspondance between Ambrocenide® and other molecules as Cedrol and Cedryl acetate explains the cedarwood olfactive caracter of Ambrocenide®. It is however less reminiscent of Cedarwood Virginia EO than the quoted molecules, and has a strong ambergris note.
On the other hand, Ambrocenide® has an icy trigeminal note differenciating it from other dry woody notes.
Price Range :

€€€€€
Stability :

Stable in perfumes and diverse functional bases, except very acid products and bleach.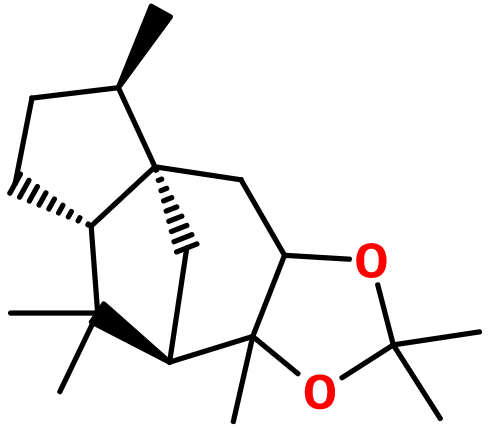 Crédits photo: ScenTree SAS
Molecular formula :

C18H30O2

Molecular Weight :

278,44 g/mol

Density :

1,09

Flash Point :

150°C

Fusion Point :

58°C
Appearance :

White crystals

Log P :

Donnée indisponible,

Boiling Point :

302°C

Detection Threshold :

0,0256 ng/L air
Synthesis route :

Data not available.
Synthesis precursor :

Ambrocenide® is not a precursor for the synthesis of another olfactive compound.
Isomerism :

Ambrocenide® has various asymetric carbons. The molecule used in perfumes is a single isomer (see drawing). Ambrocenide is an constitutional isomer of Amberketal®, having a more milky facet.
EINECS number :

427-580-1

FEMA number :

Donnée indisponible.

JECFA number :

Donnée indisponible.

FLAVIS number :

Donnée indisponible.

Allergens :

This ingredient does not contain any allergen.

IFRA :

This ingredient is not restricted
To learn more about IFRA's standards : https://ifrafragrance.org/safe-use/library
ScenTree is solely responsible for the information provided here.