CAS N° :
88-41-5
Fruity > Green Fruits > Dry Woods > Green > Camphoric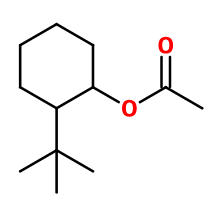 Crédits photo: ScenTree SAS
Other names :

OTBCH acetate (OrthoTertButylCycloHexanol) ; (2-tert-butylcyclohexyl) acetate ; 1-acetoxy-2-tert-butylcyclohexane ; Agrumex HC ; 2-tert-butyl cyclohexanol acetate ; Ortho-tert-butyl cyclohexyl acetate ; 2-(1,1- dimethylethyl)cyclohexyl acetate ; Green acetate ; Grumex ; Menthonate ; Ommelione supra ; Ortholate ; Polarvert ; Pommelione supra ; Ylanat ortho
Volatility :

Heart
Uses in perfumery :

Verdox® is used in woody, coniferous, apple and fruity tea notes. Sometimes used as a Beta-Damascenone® replacer. Used for its stability in shampoos and shower gels.
Natural availability :

Verdox® is not available in its natural state.
Year of discovery :

Data not available.
Other comments :

In comparision to Vertenex®, Verdox® has a more fruity note, reminiscent of apple, before also being woody.
Price Range :

€
Stability :

Stable in perfumes and diverse functional bases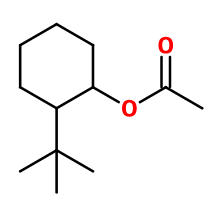 Crédits photo: ScenTree SAS
Molecular formula :

C12H22O2

Molecular Weight :

198.31 g/mol

Density :

0.942

Flash Point :

195.8°F (91°C)

Fusion Point :

80.6°F (27°C)
Appearance :

Colorless liquid

Log P :

4.23

Boiling Point :

449.6°F (232°C)

Detection Threshold :

Data not available.
Synthesis route :

Verdox® is synthesized from 2-tert-butylcyclohexanol (obtained from 2-tert-butylphenol by a catalytic hydrogenation) by an esterification reaction with acetic anhydride, catalysed by a strong concentrated acid such as sulfuric acid.
Synthesis precursor :

Verdox® is not a precursor to the synthesis of another compound of olfactory interest.
Isomerism :

Verdox® is a mixture of isomers, of which the cis isomer is present in majority, representing 60 to 95% of the mixture. One of the positional isomers of Verdox® is Vertenex®, with a woodier smell. Citronellyl acetate and Menthanyl acetate are constitutional isomers of Verdox®. Their smell is distinctly different, and although they also are fruity, they do not have a woody note.
EINECS number :

201-828-7

FEMA number :

Data not available.

JECFA number :

Data not available.

FLAVIS number :

Data not available.

Allergens :

This ingredient does not contain any allergen.

IFRA :

This ingredient is not restricted
To learn more about IFRA's standards : https://ifrafragrance.org/safe-use/library
ScenTree is solely responsible for the information provided here.