Prenyl acetate
Naturelle - Synthétique
CAS N° :
1191-16-8
Fruity > Yellow Fruits > Etheric Solvent > Green Fruits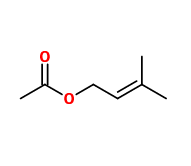 Crédits photo: ScenTree SAS
Other names :

Prenylacetate ; Vertenol acetate ; Vertenyl acetate ; 3-methyl-2-butenyl acetate ; 3-methylbut-2-enyl acetate ; 3,3-dimethyl allyl acetate ; 3,3-dimethylallyl acetate ; Isopent-2-enyl acetate
Volatility :

Head
Uses in perfumery :

Prenyl acetate is used for banana and red fruit accords, associated with floral notes to add a fruity aspect and to boost the top note.
Natural availability :

Prenyl acetate is slightly found (less than 1%) in Ylang-Ylang distillation fractions (Ylang-Ylang Extra EO for example). It can be extracted from it on a natural state.
Year of discovery :

Data not available.
Other comments :

Prenyl acetate is very close to Isoamyl acetate. Their smell is anyway different, as Prenyl acetate is less evoking banana fruit and its sweet aspect. It has a etheric smell instead.
Price Range :

€
Stability :

Esters tend to form their corresponding acid in stability.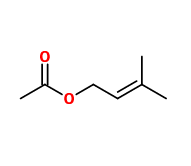 Crédits photo: ScenTree SAS
Molecular formula :

C7H12O2

Molecular Weight :

128,17 g/mol

Density :

0,917

Flash Point :

49°C

Fusion Point :

Donnée indisponible.
Appearance :

Colorless liquid

Log P :

1,7

Boiling Point :

152°C

Detection Threshold :

Donnée indisponible.
Synthesis route :

Prenyl acetate is synthesized by an esterification reaction between acetic acid and prenol (or 3-methyl-2-butenol). This synthesis can be optimized to get a better yield, replacing acetic acid by acetic anhydride or chloroacetic acid.
Synthesis precursor :

Prenyl acetate is not a precursor to the synthesis of another compound of olfactive interest.
Isomerism :

Prenyl acetate is a constitutional isomer of cis-3-Hexenyl Formate. The smell of Prenyl acetate also evokes pear fruit and has a green nuance, much less important than in cis-3-Hexenyl Formate.
EINECS number :

214-730-4

FEMA number :

4202

JECFA number :

1827

FLAVIS number :

09.692

Allergens :

This ingredient does not contain any allergen.

IFRA :

This ingredient is not restricted
To learn more about IFRA's standards : https://ifrafragrance.org/safe-use/library
ScenTree is solely responsible for the information provided here.
Do you sell any of the raw materials? Would you like to let our users know?
Send an email to fournisseurs@scentree.co to learn about our advertising opportunities.