Isoamyl acetate
Naturelle - Synthétique
CAS N° :
123-92-2
Fruity > Yellow Fruits > White Flowers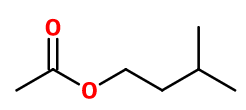 Crédits photo: ScenTree SAS
Other names :

Methylbutyl acetate ; Isopentyl acetate ; Acetic acid isoamyl ester ; Acetic acid isopentyl ester ; 3-methylbutyl acetate ; Isopentyl ethanoate
Volatility :

Head
Uses in perfumery :

Isoamyl acetate is used in banana notes. Enhances the head of a perfume, and gives a fruity-banana or pear nuance, especially in jasmine notes. However, it can make an accord become very artificial in the case of an overdose.
Natural availability :

Isoamyl acetate can be extracted from Roman Chamomile EO, although it is present in very small quantities.
Year of discovery :

Data not available.
Other comments :

For a jasmine facet, Isoamyl acetate is comparable to Benzyl Propionate.
Price Range :

€
Stability :

acetates may form acetic acid through time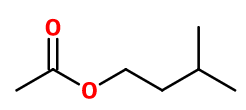 Crédits photo: ScenTree SAS
Molecular formula :

C7H14O2

Molecular Weight :

130,19 g/mol

Density :

0,876

Flash Point :

25°C

Fusion Point :

-78°C
Appearance :

Colorless liquid

Log P :

2,7

Boiling Point :

142°C

Detection Threshold :

Entre 2 à 43 ppb (0,0000043% !) selon les personnes
Synthesis route :

Isoamyl acetate is synthesized by an esterification reaction between acetic acid or acetic anhydride and Isoamyl alcohol, in the presence of an acid catalyst.
Synthesis precursor :

Isoamyl acetate is not a precursor to the synthesis of another compound of olfactory interest.
Isomerism :

Isoamyl acetate does not have any isomer used in perfumery.
EINECS number :

204-662-3

FEMA number :

2055

JECFA number :

43

FLAVIS number :

09.024

Allergens :

This ingredient does not contain any allergen.

IFRA :

This ingredient is not restricted
To learn more about IFRA's standards : https://ifrafragrance.org/safe-use/library
ScenTree is solely responsible for the information provided here.