Para-Cresyl acetate
Naturelle - Synthétique
CAS N° :
140-39-6
Animalic > Leather > Butyric > White Flowers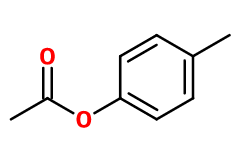 Crédits photo: ScenTree SAS
Other names :

4-methylphenyl acetate ; Acetic acid 4-methylphenyl ester ; Acetic acid para-cresyl ester ; Acetic acid para-tolyl ester ; Acetoxytoluene ; Para-Cresylic acetate ; Para-tolyl acetate
Volatility :

Head
Uses in perfumery :

Para-Cresyl acetate can be used in the composition of a white or light floral accord for its animalic and floral note. Can also be used for animalic and leather notes.
Natural availability :

Cresolic compounds such as para-Cresyl acetate or para-Cresyl Phenyl acetate are the compounds that gives Ylang-Ylang Extra EO (and other ylang fractions) its animalic note, as they are present in trace amounts.
Year of discovery :

Data not available.
Other comments :

In comparision to para-Cresol, para-Cresyl acetate brings a more butyric and floral smell, when para-Cresol is more purely phenolic and has a slight almond touch.
Can contain traces of para-Cresol.
Price Range :

€€
Stability :

acetates may form acetic acid through time. Para-Cresyl acetate is particularly unstable.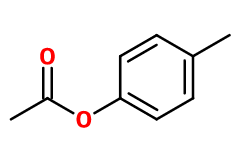 Crédits photo: ScenTree SAS
Molecular formula :

C9H10O2

Molecular Weight :

150,18 g/mol

Density :

1,055

Flash Point :

95°C

Fusion Point :

Donnée indisponible.
Appearance :

Colorless liquid

Log P :

2,2

Boiling Point :

208°C

Detection Threshold :

25 ppb (0,0000025 %)
Synthesis route :

Para-Cresyl acetate results from the esterification of para-Cresol with acetic acid or acetic anhydride, catalysed by the presence of a strong acid such as concentrated sulfuric acid.
Synthesis precursor :

Para-Cresyl acetate is not a precursor to the synthesis of another compound of olfactory interest.
Isomerism :

Para-Cresyl acetate is the ester of Para-Cresol. Ortho-Cresyl acetate has a fruity smell, close to dried fruits, rather medicinal. On the other hand, meta-Cresyl acetate is similar to para-Cresyl acetate. Benzyl acetate is a constitutional isomer of para-Cresyl acetate, although these two isomers have a very different smell: Benzyl acetate has a very jasmine, fruity and heady smell, and is not animalic.
EINECS number :

205-413-1

FEMA number :

3073

JECFA number :

699

FLAVIS number :

09.036

Allergens :

This ingredient does not contain any allergen.

IFRA :

This ingredient is not restricted
To learn more about IFRA's standards : https://ifrafragrance.org/safe-use/library
ScenTree is solely responsible for the information provided here.
Do you sell any of the raw materials? Would you like to let our users know?
Send an email to fournisseurs@scentree.co to learn about our advertising opportunities.