Octahydrocoumarin
Synthétique
CAS N° :
4430-31-3
Balsamic Ambery > Coumarinic > Tropical Fruits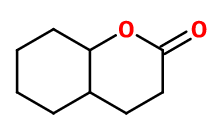 Crédits photo: ScenTree SAS
Other names :

Bicyclononalactone ; 3,4,4a,5,6,7,8,8a-octahydrochromen-2-one ; Octahydro-2H-1-benzopyran-2-one ; Cyclohexyl lactone ; Octahydro-1-benzopyran-2-one ; Octahydrochromen-2-one
Volatility :

Base
Uses in perfumery :

Octahydrocoumarin is used in fine fragrance in fougere fragrances. Allows to work on fig, coconut, white and heady flowers, vanillic, ambery and spicy-cinnamon notes.
Natural availability :

Octahydrocoumarin is not available in its natural state.
Year of discovery :

Data not available.
Other comments :

Octahydrocoumarin has a much more fruity and lactonic smell than other coumarin derivatives.
Price Range :

€€€
Stability :

Stable in perfumes and diverse functional bases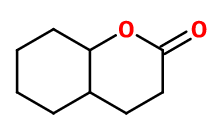 Crédits photo: ScenTree SAS
Molecular formula :

C9H14O2

Molecular Weight :

154,21 g/mol

Density :

1,09

Flash Point :

113°C

Fusion Point :

Donnée indisponible.
Appearance :

Colorless liquid

Log P :

2,52

Boiling Point :

Donnée indisponible.

Detection Threshold :

Donnée indisponible.
Synthesis route :

Octahydrocoumarin is synthesized from Coumarin by a catalytic hydrogenation reaction carried at a high temperature which must reach 392 to 482°F to synthesize this compound. Another synthetic route is an intramolecular esterification of 3-(2-hydroxycyclohexyl)propanoic acid.
Synthesis precursor :

Octahydrocoumarin is not a precursor to the synthesis of another compound of olfactory interest.
Isomerism :

Folione® is a constitutional isomer of Octahydrocoumarin, even if these two ingredient do not have the same smell at all.
EINECS number :

224-623-4

FEMA number :

3791

JECFA number :

1166

FLAVIS number :

13.161

Allergens :

This ingredient does not contain any allergen.

IFRA :

This ingredient is not restricted
To learn more about IFRA's standards : https://ifrafragrance.org/safe-use/library
ScenTree is solely responsible for the information provided here.
Do you sell any of the raw materials? Would you like to let our users know?
Send an email to fournisseurs@scentree.co to learn about our advertising opportunities.