CAS N° :
13828-37-0
Floral > Fresh Flowers > Plastic > Aldehydic > Mushroom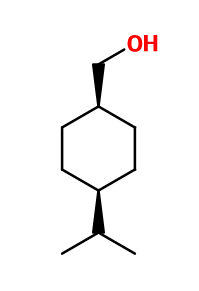 Crédits photo: ScenTree SAS
Other names :

Cyclohexanemethanol, 4-(1-methylethyl)-, cis ; (4-Isopropylcyclohexyl)methanol ; cis-muguet shiseol ; cis-4-Isopropylcyclohexylmethanol
Volatility :

Heart
Uses in perfumery :

Mayol® is a very interesting ingredient to harmonize white and rosy floral notes. Introduced in the Beyond Muguet collection in 2018, this material is used for lily of the valley notes, but also for lilacs, seringas, tuberoses or jasmines. It can also be used to enhance citrus or to soften and improve the diffusive character of woody notes. Dosage between 0.5% and 5/6%.
Natural availability :

Mayol® does not occur naturally
Year of discovery :

1939 'Mayol®' trademark has been published and protected by Firmenich SA since 07/02/1978 (brand N°436169)
Other comments :

Mayol® is part of Firmenich's Beyond Muguet collection since 2018
Price Range :

€€
Stability :

Very good stability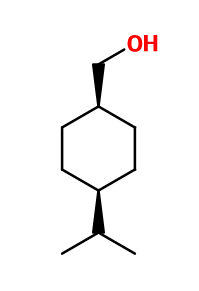 Crédits photo: ScenTree SAS
Molecular formula :

C10 H20 O 

Molecular Weight :

156 g/mol

Density :

0,912 - 0,92 @20°C

Flash Point :

> 99°C

Fusion Point :

Donnée indisponible.
Appearance :

Colorless liquid

Log P :

3,45

Boiling Point :

Donnée indisponible.

Detection Threshold :

Donnée indisponible.
Synthesis route :

Mayol® can be synthesized either from Beta-pinene (reaction with peracetic acid) or from cuminic aldehyde
Synthesis precursor :

Mayol® is not a precursor for another compound of olfactory interest
Isomerism :

Mayol® is a stereoisomeric molecule, its isopropyl group can have either cis or trans configurations
EINECS number :

237-539-8

FEMA number :

4507

JECFA number :

Donnée indisponible.

FLAVIS number :

Donnée indisponible.

Allergens :

This ingredient does not contain any allergen.

IFRA :

This ingredient is not restricted
To learn more about IFRA's standards : https://ifrafragrance.org/safe-use/library
ScenTree is solely responsible for the information provided here.
Do you sell any of the raw materials? Would you like to let our users know?
Send an email to fournisseurs@scentree.co to learn about our advertising opportunities.