Beta-Pinene
Naturelle - Synthétique
CAS N° :
127-91-3
Woody > Coniferous > Fresh Woods > Zesty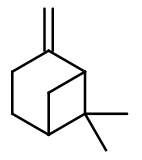 Crédits photo: ScenTree SAS
Other names :

7,7-dimethyl-4-methylidenebicyclo[3.1.1]heptane ; Beta-nopinene ; Terbenthene ; Rosemarel®
Volatility :

Head
Uses in perfumery :

Beta-Pinene is used in terpenic, woody and coniferous accords, to provide a fresh, lemony, pine needle facet.
Natural availability :

Beta-Pinene is present in citrus raw materials (Lemon EO, Bergamot EO, Sweet Orange EO), in spices (Black Pepper EO, Elemi EO, Nutmeg EO), in Galbanum EO and in Turpentine EO. This molecule can be extracted by fractional distillation of all these essential oils.
Year of discovery :

Data not available.
Other comments :

In comparision with other terpenes as Beta-Pinene or Gamma-Terpinene, Alpha-Pinene has a fresh woody smell but also is very earthy, on the contrary to the zesty note frequently found for terpenes.
Price Range :

€
Stability :

Terpenes tend to polymerize by oxydation. Unstable in very alkaline bases as soap, where its smell is not percievable.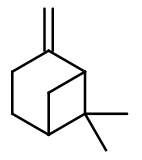 Crédits photo: ScenTree SAS
Molecular formula :

C10H16

Molecular Weight :

136,23 g/mol

Density :

0,868

Flash Point :

35°C

Fusion Point :

-61°C
Appearance :

Colorless liquid

Log P :

3,1

Boiling Point :

165°C

Detection Threshold :

140 ppb (Contre 62ppb pour le Pinène-Alpha)
Synthesis route :

The synthesis of Beta-Pinene is less common than its extraction from Turpentine EO. This extraction is done by a fractional distillation.
Synthesis precursor :

Beta-Pinene is a precursor for the synthesis of Myrcene by pyrolysis. Moreover, an addition of formaldehyde on this compound forms nopol. Nopyl acetate is used in perfumery.
Isomerism :

Beta-Pinene has two enantiomers, laevorotatory and dextrorotatory, both used in perfumery. Both isomers have a similar smell, although the dextrorotatory isomer is sweeter. Alpha-Pinene is more camphorated and less woody than beta-Pinene.
EINECS number :

204-872-5

FEMA number :

2903

JECFA number :

1330

FLAVIS number :

01.003

Allergens :

This ingredient does not contain any allergen.

IFRA :

This ingredient is not restricted
To learn more about IFRA's standards : https://ifrafragrance.org/safe-use/library
ScenTree is solely responsible for the information provided here.
Do you sell any of the raw materials? Would you like to let our users know?
Send an email to fournisseurs@scentree.co to learn about our advertising opportunities.