CAS N° :
39255-32-8
Fruity > Green Fruits > Tropical Fruits > Juicy Fruits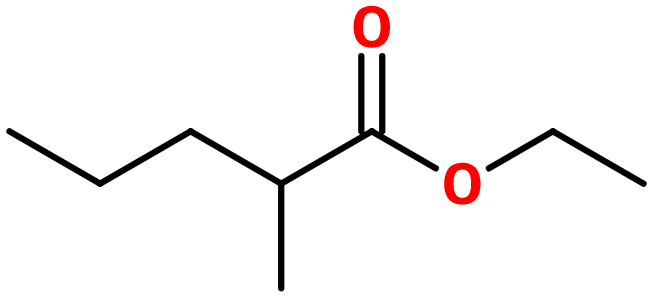 Crédits photo: ScenTree SAS
Other names :

Applinate ; Ethyl 2-methyl pentanoate ; Ethyl 2-methyl valerate ; Ethyl 2-methyl-4-pentanoate ; Mazanate ; Melon valerate
Volatility :

Head
Uses in perfumery :

Manzanate® is a key molecule in masculine perfumes. It is often used in small quantities to bring a strong fruity and addictive impact from the top note of the perfume, with a metallic and green note. Also used in apple, pineapple, exotic fruits and yellow fruits notes, to bring a heady and green effect.
Natural availability :

Manzanate® is not reported as found in nature.
Year of discovery :

1974
Other comments :
Price Range :

€€
Stability :

Only stable in Fabric conditioner, APC and shampoo bases. Particularly unstable in liquid fabric detergent and liquid bleach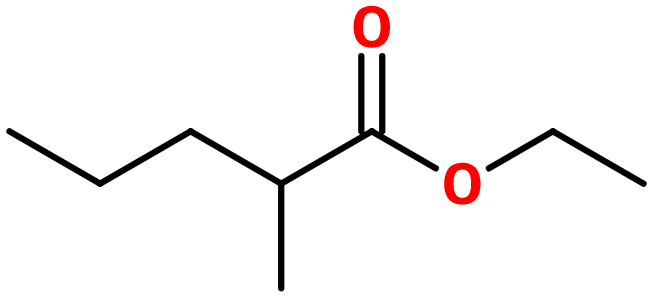 Crédits photo: ScenTree SAS
Molecular formula :

C8H16O2

Molecular Weight :

144,21 g/mol

Density :

0,86

Flash Point :

41°C

Fusion Point :

Donnée indisponible.
Appearance :

Colorless liquid

Log P :

2,65

Boiling Point :

153°C

Detection Threshold :

0,003 ppb (0,0000000000003% !)
Synthesis route :

Manzanate® can be synthesized by an esterification reaction between 2-methylpentanoic acid and ethanol. This reaction can be catalyzed by the presence of a strong acid in a low quantity as concentrated sulfuric acid, to enhance the reaction yield. The use of chloro-2-methylpentanoic acid can also be a help.
Synthesis precursor :

Manzanate® is not a precursor for the synthesis of another compound used in perfumes.
Isomerism :

Manzanate® has one asymmetric carbon in its strcture. (R)-2-methylpentanoate and (S)-2-methylpentanoate both exist. Manzanate® is a mixture of these two enantiomers. They are not used separately. On the other hand, Ethyl Caproate is a positional isomer of Manzanate®. Its smell is less elegant and closer to ripe pineapple, less green.
EINECS number :

254-384-1

FEMA number :

3488

JECFA number :

214

FLAVIS number :

09.526

Allergens :

This ingredient does not contain any allergen.

IFRA :

This ingredient is not restricted
To learn more about IFRA's standards : https://ifrafragrance.org/safe-use/library
ScenTree is solely responsible for the information provided here.