CAS N° :
36306-87-3
Woody > Vetiver > Ambergris > Violet Flower > Spicy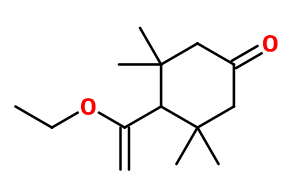 Crédits photo: ScenTree SAS
Other names :

4-(1-ethoxyethenyl)-3,3,5,5-tetramethylcyclohexan-1-one ; Kephalan ; Kephalor ; Tetrambrone ; 3,3,5,5-tetramethyl-4-(1-ethoxyvinyl) cyclohexanone ; Woody cyclohexanone
Volatility :

Head/Heart
Uses in perfumery :

Kephalis® is used in woody, ambery, masculine fragrances, leather, suede, spicy and floral notes. Gives a leather and woody appearance from the head to the base.
Natural availability :

Kephalis® is not available in its natural state.
Year of discovery :

Data not available.
Other comments :

In comparision to other woody-ambergris notes also having a violet flower undernote, Iso E Super® is more reminiscent of Cedarwood Virginia EO than Vetiver Haiti EO, in the case of Kephalis®.
Price Range :

€€€
Stability :

Unstable in acidic products, except fabric conditioners, and in very alkaline detergents.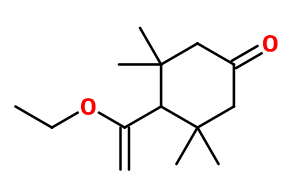 Crédits photo: ScenTree SAS
Molecular formula :

C14H24O2

Molecular Weight :

224.34 g/mol

Density :

0.947

Flash Point :

248°F (120°C)

Fusion Point :

-112°F (-80°C)
Appearance :

Colorless liquid

Log P :

4.3

Boiling Point :

521.6°F (272°C)

Detection Threshold :

3.9547 ng/l
Synthesis route :

Kephalis® is one of two compounds synthesized by a cyclodimerization reaction of mesityl oxide (or 4-methylpent-3-en-2-one), in the presence of boron trifluoride etherate, by reaction with ethyl orthoformate. The other compound formed during this reaction has no olfactory interest.
Synthesis precursor :

Kephalis® is not a precursor to the synthesis of another compound of olfactory interest.
Isomerism :

Kephalis® does not have any isomer used in perfumery.
EINECS number :

252-961-2

FEMA number :

Data not available.

JECFA number :

Data not available.

FLAVIS number :

Data not available.

Allergens :

This ingredient does not contain any allergen.

IFRA :

This ingredient is not restricted
To learn more about IFRA's standards : https://ifrafragrance.org/safe-use/library
ScenTree is solely responsible for the information provided here.