Javanol® Super
Synthétique
CAS N° :
198404-98-7
Woody > Sandalwood > Milky > Fatty > Dry Woods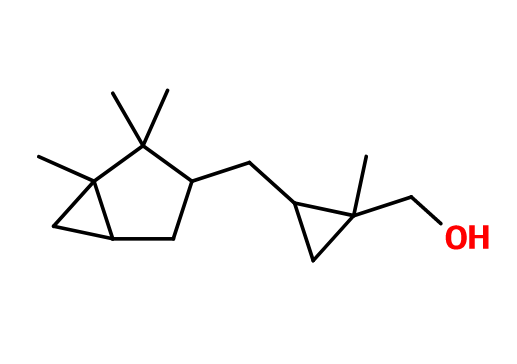 Crédits photo: ScenTree SAS
Other names :

[(1R,2S)-1-methyl-2-[[(1R,3S,5S)-1,2,2-trimethyl-3-bicyclo[3.1.0]hexanyl]methyl]cyclopropyl]méthanol ; 1-methyl-2-[(1,2,2-trimethylbicyclo[3.1.0]hex-3-yl)methyl]-cyclopropanemethanol
Volatility :

Base
Uses in perfumery :
Natural availability :

Javanol® is not available in its natural state.
Year of discovery :

Data not available.
Other comments :

The detection limit of Javanol® is extremely low. This makes it one of the most used santal compounds, because it brings a milky and woody effect, even with a very small dosis.
Price Range :

€€€€
Stability :

Unstable exclusively in acid cleaners and in bleach.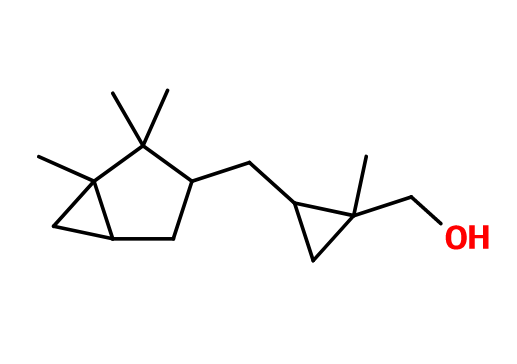 Crédits photo: ScenTree SAS
Molecular formula :

C15H26O

Molecular Weight :

222,37 g/mol

Density :

0,95

Flash Point :

>93°C

Fusion Point :

Donnée indisponible.
Appearance :

Colorless viscous liquid

Log P :

Donnée indisponible,

Boiling Point :

271°C

Detection Threshold :

Donnée indisponible.
Synthesis route :

Javanol® is synthesized by a Simmons-Smith double reaction, consisting of cyclopropanation from 2-methyl-4-(2,2,3-trimethyl-3-cyclopenten-1-yl)-2-buten-1-ol. This reaction involves a catalysis of Zinc and Copper, as well as diodomethane, to convert a double bond to a cyclopropane group. Javanol® Super corresponds to one isolated isomer of Javanol®.
Synthesis precursor :

Javanol® is not involved in the synthesis of another compound of olfactory interest.
Isomerism :

Javanol® has several asymmetric carbons that give rise to several possible isomers. Javanol® Super is a unique isomer. In addition, Javanol® is a constitutional isomer of Polysantol®. These two compounds have a similar structure, and are used for similar reasons in perfumes. Javanol® still has a less milky note than Polysantol®, but is more powerful.
EINECS number :

427-900-1

FEMA number :

4776

JECFA number :

2254

FLAVIS number :

Donnée indisponible.

Allergens :

This ingredient does not contain any allergen.

IFRA :

This ingredient is not restricted
To learn more about IFRA's standards : https://ifrafragrance.org/safe-use/library
ScenTree is solely responsible for the information provided here.