CAS N° :
20665-85-4
Balsamic Ambery > Gourmand > Vanillic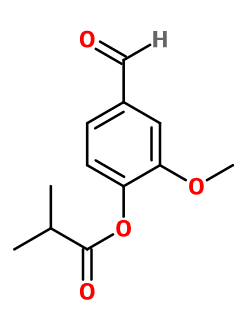 Crédits photo: ScenTree SAS
Other names :

Vanillyl Isobutyrate ; Vanilliyl Isobutanoate ; (4-formyl-2-methoxyphenyl)-2-methylpropanoate ; Isobutyl lignate ; 4-hydroxy-meta-anisaldehyde isobutyrate ; 3-methoxy-4-isobutyryl benzaldehyde ; Vanillin isobutyrate
Volatility :

Base
Uses in perfumery :

Isobutavan® is used in oriental, woody and floral perfumes, for white chocolate and praline notes.
Natural availability :

Isobutavan® is not available in its natural state.
Year of discovery :

Data not available.
Other comments :

Isobutavan® is part of the Chocovan® base.
Price Range :

€€€
Stability :

Exclusively stable in shampoo and soap bases. Very unstable in fabric detergents and bleach.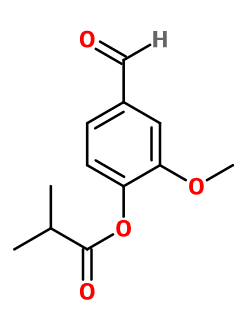 Crédits photo: ScenTree SAS
Molecular formula :

C12H14O4

Molecular Weight :

222.24 g/mol

Density :

1.134

Flash Point :

213.8°F (101°C)

Fusion Point :

Data not available.
Appearance :

Colorless liquid

Log P :

Data not available.

Boiling Point :

595.4°F (313°C)

Detection Threshold :

0.155 ng/l
Synthesis route :

Isobutavan® is synthesized by an esterification reaction between 2-methylpropanoic acid and Vanillin. This reaction is catalysed by a strong concentrated acid.
Synthesis precursor :

Isobutavan® is not a precursor to the synthesis of another compound of olfactory interest.
Isomerism :

Isobutavan® does not have any isomer used in perfumery.
EINECS number :

243-956-6

FEMA number :

3754

JECFA number :

891

FLAVIS number :

09.811

Allergens :

This ingredient does not contain any allergen.

IFRA :

This ingredient is not restricted
To learn more about IFRA's standards : https://ifrafragrance.org/safe-use/library
ScenTree is solely responsible for the information provided here.