Gamma-Octalactone
Synthétique
CAS N° :
104-50-7
Fruity > Lactonic > Coconut > Coumarinic > Green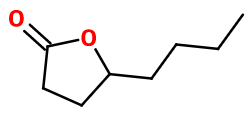 Crédits photo: ScenTree SAS
Other names :

Octano-1,4-lactone ; 5-butyl tetrahydro-2-furanone ; 4-butyl-gamma-butyrolactone ; 5-butyloxolan-2-one ; Octan-4-olide ; Octano-1,4-lactone ; 4-octanolide
Volatility :

Base
Uses in perfumery :

Gamma-Octalactone is used in peach and coconut reconstitutions for its milky note, and in heavy floral accords as tuberose and jasmine.
Natural availability :

Gamma-Octalactone is found in the odoriferous principle of some processed and unprocessed food (apricot, peach, pineapple, blue cheese…), but does not exist on a natural state.
Year of discovery :

Data not available.
Other comments :

Data not available.
Price Range :

€€
Stability :

Lactones tend to polymerize through time, making them more viscous and leading to a phase shift in alcohol.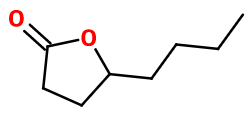 Crédits photo: ScenTree SAS
Molecular formula :

C8H14O2

Molecular Weight :

142,2 g/mol

Density :

0,98

Flash Point :

111°C

Fusion Point :

Donnée indisponible.
Appearance :

Colorless liquid

Log P :

Donnée indisponible,

Boiling Point :

234°C

Detection Threshold :

L'Octalactone-Gamma possède un seuil de détection très faible, de l'ordre du ppb (partie par milliard), de l'ordre de 0,0000001%, Une simple utilisation en trace suffit donc à percevoir ses effets,
Synthesis route :

Gamma-Octalactone is a cyclic lactone, synthesized as every other lactones. A reaction between acrylic acid and pentanol, in the presence of an alkaline sulfate or phosphate, ables to synthesize this molecule. An intramolecular esterification of 4-hydroxyoctanoic acid, catalized by a strong acid as sulfuric acid, also ables to obtain this compound. Eventually, biochemical synthesis routes are being studied.
Synthesis precursor :

Gamma-Octalactone is not used for the synthesis of another molecule of olfactive interest.
Isomerism :

Gamma-Octalactone has an asymmetric carbon, giving birth to two possible enantiomers. Nevertheless, a blend of these enantiomers is used in perfumery. Delta-Octalactone is a constitutional isomer of this molecule, but has a more woody and less milky note.
EINECS number :

203-208-1

FEMA number :

2796

JECFA number :

226

FLAVIS number :

10.022

Allergens :

This ingredient does not contain any allergen.

IFRA :

This ingredient is not restricted
To learn more about IFRA's standards : https://ifrafragrance.org/safe-use/library
ScenTree is solely responsible for the information provided here.