Gamma-Hexalactone
Naturelle - Synthétique
CAS N° :
695-06-7
Fruity > Lactonic > Coconut > Coumarinic > Minty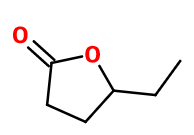 Crédits photo: ScenTree SAS
Other names :

5-ethyloxolan-2-one ; Gamma- caprolactone ; Dehydrotonkalide ; 4-ethyl butan-4-olide ; Gamma-ethyl butyrolactone ; 5-ethyltetrahydro-2-furanone ; 4-ethyl-4-butanolide ; 5-ethyl-dihydrofuran-2-one ; 4-ethylbutan-4-olide ; Hexan-4-olide ; Hexano-1,4-lactone ; 4-hexanolide ; 4- hydroxyhexanoic acid lactone ; Tonkalide
Volatility :

Head/Heart
Uses in perfumery :

Gamma-Hexalactone is used for a gourmet, sunny and milky tonality and to recreate an exoticism in fruity notes in particular.
Natural availability :

Gamma-Hexalactone is present in several fruits. However, it is synthetic Gamma-Hexalactone which is more often used in perfumery.
Year of discovery :

Data not available.
Other comments :

The smell of Gamma-Hexalactone is close to the one of Methyl Laitone® because of its fruity Coumarin note, reminiscent of coconut.
Price Range :

€€€
Stability :

Lactones tend to polymerize through time, making them more viscous and leading to a phase shift in alcohol.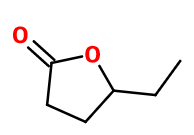 Crédits photo: ScenTree SAS
Molecular formula :

C6H10O2

Molecular Weight :

114,14 g/mol

Density :

1,028

Flash Point :

102°C

Fusion Point :

-18°C
Appearance :

Colorless liquid

Log P :

0,34

Boiling Point :

220°C

Detection Threshold :

1,6 ppm (0,00016%)
Synthesis route :

Like some other lactones, Gamma-Hexalactone can be synthesized by an intramolecular esterification reaction, using 4-hydroxyhexanoic acid and concentrated sulfuric acid, for example, in a catalytic amount.
Synthesis precursor :

Gamma-Hexalactone is not a precursor to the synthesis of another compound of olfactory interest.
Isomerism :

The asymmetric carbon of Gamma-Hexalactone is responsible for the presence of two enantiomers of this molecule. The (R) enantiomer of the molecule is greener than the other isomer, more woody.
EINECS number :

211-778-8

FEMA number :

2556

JECFA number :

223

FLAVIS number :

10.021

Allergens :

This ingredient does not contain any allergen.

IFRA :

This ingredient is not restricted
To learn more about IFRA's standards : https://ifrafragrance.org/safe-use/library
ScenTree is solely responsible for the information provided here.