Gamma-Dodecalactone
Synthetic
CAS N° :
2305-05-7
Fruity > Lactonic > Yellow Fruits > Metallic > Fatty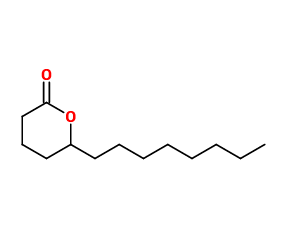 Crédits photo: ScenTree SAS
Other names :

Dodecanolide-1,4 ; Hydroxydodecanoic acid γ-lactone
Volatility :

Base
Uses in perfumery :

Used to bring warm, creamy facets. Very good with fruity notes. Also used to ''smooth '' a accord.
Natural availability :

Data not available.
Year of discovery :

Data not available.
Other comments :

Data not available.
Price Range :

€€€
Stability :

Lactones tend to polymerize through time, making them more viscous and leading to a phase shift in alcohol.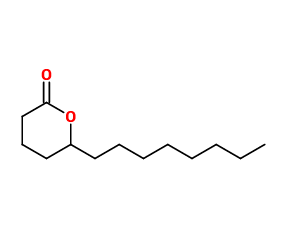 Crédits photo: ScenTree SAS
Molecular formula :

C12H22O2

Molecular Weight :

198.31 g/mol

Density :

0.935

Flash Point :

230°F (110°C)

Fusion Point :

Data not available.
Appearance :

Colorless liquid

Log P :

3.55

Boiling Point :

311.45°C (592.61°F)

Detection Threshold :

Data not available.
Synthesis route :

Gamma-Dodecalactone is part of the gamma-lactone family: cyclic esters whose ring is made up of five atoms. This molecule is a cyclic lactone synthesized in the similar way as other lactones. The reaction between acrylic acid and butanol, in the presence of an alkaline sulphate or phosphate allows this molecule to be synthesized. Intramolecular esterification of 4-hydroxyheptanoic acid, catalyzed by a strong acid such as concentrated sulfuric acid, also makes it possible. Finally, biochemical synthesis routes are being studied by the producing companies.
Synthesis precursor :

Gamma-Dodecalactone is not a precursor to the synthesis of another compound of olfactory interest.
Isomerism :

Gamma-Dodecalactone has an asymetric carbon. Nevertheless, we always use its racemic mixture in perfumery. Dodecalactone-Delta is an isomer of Decalactone-Gamma, which has one less carbon atom into its ring, but one more in its ramified carbon chain. The resulting odor changes from a metallic peach and coconut odor to a fruity peach odor
EINECS number :

218-971-6

FEMA number :

2400

JECFA number :

235

FLAVIS number :

10.019

Allergens :

This ingredient does not contain any allergen.

IFRA :

This ingredient is not restricted
To learn more about IFRA's standards : https://ifrafragrance.org/safe-use/library
ScenTree is solely responsible for the information provided here.
Do you sell any of the raw materials? Would you like to let our users know?
Send an email to fournisseurs@scentree.co to learn about our advertising opportunities.