Gamma-Decalactone
Naturelle - Synthétique
CAS N° :
706-14-9
Fruity > Lactonic > Yellow Fruits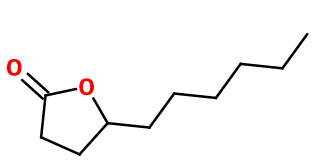 Crédits photo: ScenTree SAS
Other names :

5-hexyloxolan-2-one ; 2-decalactone ; Decan-4-olide ; Decano-1,4-lactone ; Alpha-decanolactone ; 4-decanolide ; Decanolide-1,4 ; 4,5-dihydro-5-hexyl-2(3H)-furanone ; 4-hexyl butan-4-olide ; 4-hexyl-4-butanolide ; 4-hexyl-gamma-butyrolactone ; Gamma-hexyl-gamma-butyrolactone ; 4-hexylbutan-4-olide ; 5-hexyloxolan-2-one
Volatility :

Heart/Base
Uses in perfumery :

Gamma-Decalactone adds a fruity and velvety touch to floral accords. Used in peach reconstitutions, accompanied by Aldehyde C14.
Natural availability :

Gamma-Decalactone is included in the fragrant principle of many fruits such as apricot or peach, and can be extracted from Osmanthus Absolute or from Carrot Leaf EO.
Year of discovery :

Data not available.
Other comments :

Gamma-Decalactone has a more sweet and syrupy peach side, while Aldehyde C-14 is renowned for its paper-like note.
Price Range :

€€€
Stability :

Lactones tend to polymerize through time, making them more viscous and leading to a phase shift in alcohol.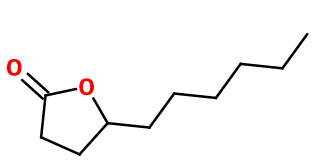 Crédits photo: ScenTree SAS
Molecular formula :

C10H18O2

Molecular Weight :

170,25 g/mol

Density :

0,967

Flash Point :

150°C

Fusion Point :

<-20°C
Appearance :

Colorless liquid

Log P :

3

Boiling Point :

281°C

Detection Threshold :

11 ppb (0,0000011% !)
Synthesis route :

Gamma-Decalactone is part of the family of gamma-lactones: cyclic esters whose cycle consists of five atoms. This molecule is synthesized biochemically. A beta-oxidation of ricinoleic acid (derived from castor oil) causes the formation of 4-Hydroxydecanoic acid, which can be cyclized at an acidic pH to obtain the final product: gamma-Decalactone.
Synthesis precursor :

Gamma-Decalactone is not a precursor to the synthesis of another compound of olfactory interest.
Isomerism :

Gamma-Decalactone has an asymmetric carbon. However, it is its racemic mixture that is used in perfumery. Delta-Decalactone is a constitutional isomer of Gamma-Decalactone, having one carbon atom less in its cycle, and one more in its ramified carbon chain. The resulting smell is very peachy for the isomer, and coconut-like for Delta-Decalactone.
EINECS number :

211-892-8

FEMA number :

2360

JECFA number :

231

FLAVIS number :

10.017

Allergens :

This ingredient does not contain any allergen.

IFRA :

This ingredient is not restricted
To learn more about IFRA's standards : https://ifrafragrance.org/safe-use/library
ScenTree is solely responsible for the information provided here.