CAS N° :
1222-05-5
Musky Animalic > Musky > Berries > Milky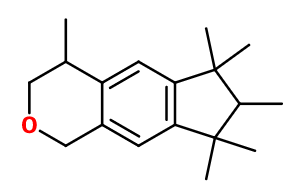 Crédits photo: ScenTree SAS
Other names :

Musc 50® ; Pearlide® ; 1,3,4,6,7,8-hexahydro-4,6,6,7,8,8-hexamethylcyclopenta-2-benzopyran ; Astrolide ; 1,3,4,6,7,8-hexahydro-4,6,6,7,8,8-hexamethyl cyclopenta-gamma-2-benzopryan ; Hexahydrohexamethyl cyclopentabenzopyran ; Musk gx
Volatility :

Base
Uses in perfumery :

Galaxolide® gives hold and trail to a perfume. It is one of the freshest and most heady musks. To be combined with other musks to multiply the facets. Widely used in detergents and fabric softeners. Preferential use in laundry. Often used as a replacement for all other musks in the case of a reformulation at a lower cost.
Natural availability :

Galaxolide® is not available in its natural state.
Year of discovery :

Discovered in 1962.
Other comments :

Often, Galaxolide® is diluted in solvent as it is very viscous : Benzyl Benzoate, Isopropyl Myristate, Triethyl Citrate, Dipropylene Glycol.
Like some other polycyclic musk, Galaxolide® is not biodegradable and causes major pollution problems. As a result, some companies have decided to ban this compound from their products.
Price Range :

€
Stability :

Musks are very stable, as in alcoholic and in functional fragrances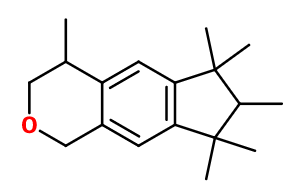 Crédits photo: ScenTree SAS
Molecular formula :

C18H26O

Molecular Weight :

258.41 g/mol

Density :

1.037

Flash Point :

>212°F (>100°C)

Fusion Point :

Data not available.
Appearance :

Colorless viscous liquid

Log P :

5.92

Boiling Point :

579.2°F (304°C)

Detection Threshold :

0.9 ng/L air
Synthesis route :

Galaxolide® can be synthesized from tert-amylene by reaction with alpha-methylstyrene, to obtain 1,1,2,3,3-pentamethylindane. This intermediate molecule can be hydroxyalkylated by reaction with the propylene oxide, during a Friedel and Craft reaction, catalysed by aluminum chloride, for example. The alcohol function of the second intermediate product obtained during the previous process can be cyclized by reaction with formaldehyde, either in an alcoholic medium or with an acid anhydride, to obtain the final compound, Galaxolide®.
Synthesis precursor :

Galaxolide® is not a precursor to the synthesis of another compound of olfactory interest.
Isomerism :

Galaxolide® contains several asymmetric carbons that give rise to several enantiomers. Thus, Galaxolide® used in perfumery is actually a mixture of at least seven isomeric molecules with different volatilities. Galaxolide® and Tonalide® are constitutional isomers and have a fairly similar overall structure. Both have a relatively similar smell, as they belong to the same family of musks.
EINECS number :

214-946-9

FEMA number :

Data not available.

JECFA number :

Data not available.

FLAVIS number :

Data not available.

Allergens :

This ingredient does not contain any allergen.

IFRA :

This ingredient is not restricted
To learn more about IFRA's standards : https://ifrafragrance.org/safe-use/library
ScenTree is solely responsible for the information provided here.