CAS N° :
125109-85-5
Floral > Light Flowers > Aldehydic > Juicy Fruits > Ozonic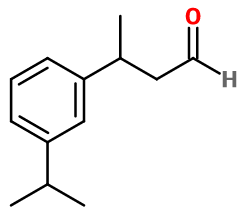 Crédits photo: ScenTree SAS
Other names :

3-(3-Isopropylphenyl)butanal ; Floral butanal ; 3-(3-(1-methylethyl)phenyl)benzene propanal ; 3-(3-propan-2-ylphenyl)butanal ; Isopropyl phenyl butanal ; Isopropylmethylbenzene propanal
Volatility :

Heart
Uses in perfumery :

Florhydral® is generally used to create lily of the valley or hyacinth notes. It is especially used for reformulating Lilial®-containing perfumes. Its notes give it a good synergy with citrus notes. Used in all kinds of perfumes.
Natural availability :

Florhydral® does not exist on a natural state. Thus, it can't be used as extracted from a plant.
Year of discovery :

Patent N°4,910,346 (US) published on Nov. 10, 1988 by Chalk.A for Givaudan Corp.
Other comments :

Good synergy with Ultrazur®, with a 4:1 ratio to create beautiful ozonic and aquatic notes.
Price Range :

€€€
Stability :

Stable in perfumes and in diverse functional bases, except in very acidic bases (detergents) and strong alkaline bases (liquid bleach).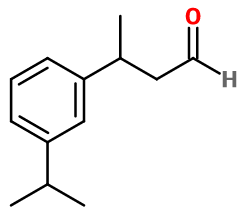 Crédits photo: ScenTree SAS
Molecular formula :

C13H18O

Molecular Weight :

190,29 g/mol

Density :

0,95

Flash Point :

68°C

Fusion Point :

Donnée indisponible.
Appearance :

Colorless liquid

Log P :

3,8

Boiling Point :

257°C

Detection Threshold :

0,07 ng/L air
Synthesis route :

Florhydral® can be synthesized by a hydroformylation reaction of 1,3-diisopropenylbenzene, using carbon monoxide and hydrogen to form an aldehydic group, starting from an alcene group.
Synthesis precursor :

Florhydral® is not used for the synthesis of another molecule of olfactive interest.
Isomerism :

Florhydral® has an asymmetric carbon, giving birth to two possible enantiomers. It is anyway a blend of these two isomers that is used in perfumery. Florhydral® also is a positional isomer of Cyclamen Aldehyde, which has a relatively close smell, although more marine.
EINECS number :

412-050-4

FEMA number :

Donnée indisponible.

JECFA number :

Donnée indisponible.

FLAVIS number :

Donnée indisponible.

Allergens :

This ingredient does not contain any allergen.

IFRA :

This ingredient is not restricted
To learn more about IFRA's standards : https://ifrafragrance.org/safe-use/library
ScenTree is solely responsible for the information provided here.
Do you sell any of the raw materials? Would you like to let our users know?
Send an email to fournisseurs@scentree.co to learn about our advertising opportunities.