Ethyl Vanillin
Synthétique
CAS N° :
121-32-4
Balsamic Ambery > Vanillic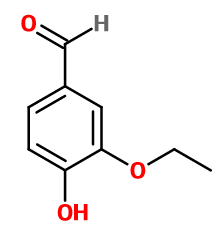 Crédits photo: ScenTree SAS
Other names :

3-ethoxy-4-hydroxybenzaldehyde ; Bourbonal ; Ethavan ; Ethovan ; 3-ethoxy protocatechualdehyde ; 2-ethoxy-4-formyl phenol ; 3-ethoxy-4-hydroxybenzaldehyde ; 3-ethoxy-4-oxidanylbenzaldehyde ; Ethyl protal ; Ethyl protocatechualdehyde-3-ethyl ether ; Ethyl protocatechuic aldehyde ; Ethylprotal ; Ethylprotocatechuic aldehyde ; Ethylvanillin ; 4-hydroxy-3-ethoxybenzaldehyde ; Quantrovanil ; Rhodiarome ; Rhodiascent ; Vanirome
Volatility :

Base
Uses in perfumery :
Natural availability :

Ethyl Vanillin is not available in its natural state.
Year of discovery :

1894
Other comments :
Price Range :

€€
Stability :

Becomes red under the effect of light. This raw material is not convenient in every functional base : can't be used in a candle or shower gel base.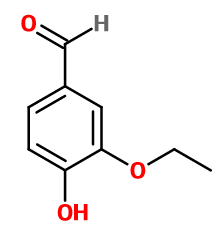 Crédits photo: ScenTree SAS
Molecular formula :

C9H10O3

Molecular Weight :

166,17 g/mol

Density :

1,186

Flash Point :

145°C

Fusion Point :

76°C
Appearance :

White solid

Log P :

Donnée indisponible,

Boiling Point :

295°C

Detection Threshold :

0,1 ppm (0,00001%)
Synthesis route :

Ethyl Vanillin synthesis can follow a similar pathway to Vanillin synthesis, starting from Guaethol rather than Guaiacol. A first step consists in reacting Guaethol with glyoxylic acid, at room temperature, in a basic medium and with a slight excess of Guaethol. A catalytic air oxidation of the intermediate product, followed by a decarboxylation in an acidic medium, releasing CO2, allows to obtain Ethyl Vanillin.
Synthesis precursor :

Ethyl Vanillin may undergo acetalization reactions in the presence of various alcohols or diols. It can also undergo esterification reactions in the presence of carboxylic acids.
Isomerism :

Ethyl Vanillin does not have any isomer used in perfumery.
EINECS number :

204-464-7

FEMA number :

2464

JECFA number :

893

FLAVIS number :

05.019

Allergens :

This ingredient does not contain any allergen.

IFRA :

This ingredient is not restricted
To learn more about IFRA's standards : https://ifrafragrance.org/safe-use/library
ScenTree is solely responsible for the information provided here.