CAS N° :
67801-20-1
Woody > Sandalwood > Milky > Musky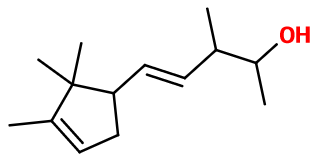 Crédits photo: ScenTree SAS
Other names :

Matsunol ; 3-methyl-5-(2,2,3-trimethyl-1-cyclopent-3-enyl)pent-4-en-2-ol ; 3-methyl-5-(2,2,3-trimethyl-3-cyclopenten-1-yl)-4-penten-2-ol ; Mohanol ; Muscosandrol ; Prabanol ; Sandal pentenol
Volatility :

Base
Uses in perfumery :

Ebanol® is used to bring volume and elegance to woody accords, with a typical sandalwood and diffusive note. It brings great tenacity in perfumes.
Natural availability :

Ebanol® is not found in nature. Thus, it cannot be extracted from any plant.
Year of discovery :

1986
Other comments :

Chemical structure of Ebanol® can remind the one of Sandalore®. Sandalore® simply does not have the carbon-carbon double bond found in Ebanol®, and which leads Ebanol® to be a mixture of isomers. Sandalwood molecules have most of the time this kind of molecular body : Bacdanol®, Polysantol® and Javanol® also have this sandalwood note.
Price Range :

€€
Stability :

Stable in perfumes and in various bases, except stong acidic (detergents, antiperspirants) and very alkaline (detergents, liquid bleach) bases.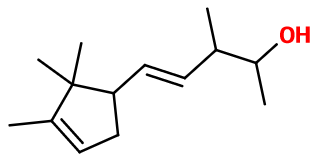 Crédits photo: ScenTree SAS
Molecular formula :

C14H24O

Molecular Weight :

208,34 g/mol

Density :

0,9

Flash Point :

108°C

Fusion Point :

<-50°C
Appearance :

Colorless liquid

Log P :

4,9

Boiling Point :

283°C

Detection Threshold :

Donnée indisponible.
Synthesis route :

Ebanol® can be synthesized in three steps. The first one is a condensation of Campholenaldehyde with 2-butanone. The obtained intermediary product is isomerized by adding potassium tert-butylate, diluted in dimethyl formamide. The last step is a reduction of the product with sodium tetrahydruroborate, leading to four stereoisomers (see ''Isomerism '' paragraph).
Synthesis precursor :

Ebanol® is not used for the synthesis of any other material used in perfumery.
Isomerism :

Ebanol® is a mixture of four diastereoisomers. These isomers appear during the synthesis of this material and are due to three asymmetric carbons and one double bond that is giving birth to two isomers inside the molecule. Among these isomers, trans-(E)-Ebanol® and cis-(Z)-Ebanol® are important. Then, a mixture of these isomers is used in perfumery.
EINECS number :

267-140-4

FEMA number :

4775

JECFA number :

2220

FLAVIS number :

Donnée indisponible.

Allergens :

This ingredient does not contain any allergen.

IFRA :

This ingredient is not restricted
To learn more about IFRA's standards : https://ifrafragrance.org/safe-use/library
ScenTree is solely responsible for the information provided here.