Delta-Octalactone
Synthétique
CAS N° :
698-76-0
Fruity > Lactonic > Coconut > Dry Woods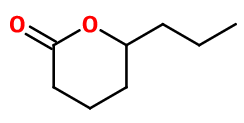 Crédits photo: ScenTree SAS
Other names :

6-propyloxan-2-one ; 5-hydroxyoctanoic acid lactone ; 5-octalactone ; Octano-1,5-lactone ; 5-octanolide ; Octanolactone ; 5-propyl-5-hydroxypentanoic acid lactone ; Delta-propyl-delta-valerolactone ; 6-propyloxan-2-one ; Tetrahydro-6-propyl-2H-pyran-2-one ; 6-propyltetrahydro-2H-pyran-2-one
Volatility :

Base
Uses in perfumery :

Delta-Octalactone is used in lactonic-coconut, exotic and tropical fruity notes to bring a coconut facet. Used in the fruity flavors and gourmand notes of some fragrances.
Natural availability :

Delta-Octalactone is present in the fragrant principle of several fruits such as peach, apricot or pineapple, as well as butter and some other daily products. Nevertheless, there is no production in its natural state.
Year of discovery :

Data not available.
Other comments :

Delta-Octalactone is one of the lactones with the strongest coconut smell. The smell of other lactones often reminisces a smell of peach or coconut. This lactone is far from being the most used in the perfume industry.
Price Range :

€€€
Stability :

Lactones tend to polymerize through time, making them more viscous and leading to a phase shift in alcohol.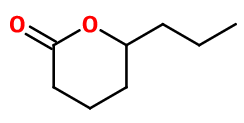 Crédits photo: ScenTree SAS
Molecular formula :

C8H14O2

Molecular Weight :

142,2 g/mol

Density :

1,001

Flash Point :

125°C

Fusion Point :

Donnée indisponible.
Appearance :

Colorless liquid

Log P :

1,16

Boiling Point :

Donnée indisponible.

Detection Threshold :

Donnée indisponible.
Synthesis route :

As for any lactone, Delta-Octalactone is synthesized by the condensation of an acid and an alcohol, which cyclize together, in the presence of an alkaline phosphate or sulphate. Here, the concerned alcohol is butanol and the acid is but-3-enoic acid. The synthesis can also be done by an intra-esterification of 5-hydroxyoctanoic acid. Moreover, as for the synthesis of all lactones, biosynthetic pathways are being developed by the producing companies.
Synthesis precursor :

Delta-Octalactone is not a precursor to the synthesis of another compound of olfactory interest.
Isomerism :

Delta-Octalactone is a positional isomer of cis-3-Hexenyl acetate. However, the two molecules are structurally and olfactively different. The asymmetric carbon of this lactone does not change the nature of the molecule produced: only a racemic mixture of the two enantiomers is used in perfumery.
EINECS number :

211-820-5

FEMA number :

3214

JECFA number :

228

FLAVIS number :

10.015

Allergens :

This ingredient does not contain any allergen.

IFRA :

This ingredient is not restricted
To learn more about IFRA's standards : https://ifrafragrance.org/safe-use/library
ScenTree is solely responsible for the information provided here.
Do you sell any of the raw materials? Would you like to let our users know?
Send an email to fournisseurs@scentree.co to learn about our advertising opportunities.