CAS N° :
259854-70-1
Musky > Fresh Flowers > Green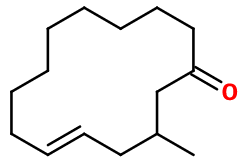 Crédits photo: ScenTree SAS
Other names :

3-methyl-cyclotetradec-5-en-1-one ; 3-methyl-5-cyclotetradecen-1-one
Volatility :

Base
Uses in perfumery :

Cosmone® is generally used as a nitromusk replacer. It has a quite similar effect and makes it possible to nuance base notes, thanks to its fruity and green facets.
Natural availability :

Cosmone® does not exist on a natural state. Thus, it can't be used as extracted from a plant.
Year of discovery :

Discovered in 1998
Other comments :

Cosmone® can be used in very low quantity to bring an elegant effect.
Price Range :

€€€€
Stability :

Stable in perfumes and in diverse functional bases, except in liquid bleach and candle bases.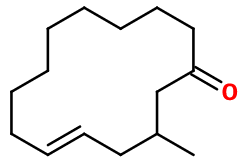 Crédits photo: ScenTree SAS
Molecular formula :

C15H26O

Molecular Weight :

222,37 g/mol

Density :

0,93

Flash Point :

>93°C

Fusion Point :

Donnée indisponible.
Appearance :

Colorless liquid

Log P :

5,6

Boiling Point :

258°C

Detection Threshold :

0,1 ng/L air
Synthesis route :

Cosmone® is synthesized by a Wittig reaction in an alkaline medium, involving (4-carboxy-3-methylbutyl)triphenylphosphonium bromide and methyl 9-oxononanoate. This frist step leads to an ester, esterified using methanol (catalysor : paratoluensulfonic acid). Putting the ester in contact with pure sodium leads to a Bouveau-Blanc rearrangement, cycling the intermediary product into two acetates, linked by a positional isomery. To remove the ester groups from these two molecules, a reductive deacetoxylation is carried out with ammonia and calcium. This way, both Cosmone® isomers are obtained, to be separated by distillation.
Synthesis precursor :

Cosmone® is not used for the synthesis of another molecule of olfactive interest.
Isomerism :

Cosmone® has two diastereisomers, trans and cis. In perfumes, a blend of these two isomers is used, because they do not have a strong olfactive difference. Cosmone® is initially a blend of two positional isomers, called Cosmone® I and II. Both are obtained during the synthesis, and can be separated by distillation. Cosmone® is a constitutional isomer of some sandalwood alcohols as Javanol® or Polysantol®. Nevertheless, they do not have any olfactive similarities.
EINECS number :

452-280-2

FEMA number :

Donnée indisponible.

JECFA number :

Donnée indisponible.

FLAVIS number :

Donnée indisponible.

Allergens :

This ingredient does not contain any allergen.

IFRA :

This ingredient is not restricted
To learn more about IFRA's standards : https://ifrafragrance.org/safe-use/library
ScenTree is solely responsible for the information provided here.
Do you sell any of the raw materials? Would you like to let our users know?
Send an email to fournisseurs@scentree.co to learn about our advertising opportunities.