Cis-Jasmone
Naturelle - Synthétique
CAS N° :
488-10-8
Spicy > Cool Spices > Anisic > White Flowers > Green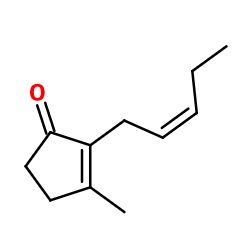 Crédits photo: ScenTree SAS
Other names :

3-methyl-2-[(Z)-pent-2-enyl]cyclopent-2-en-1-one ; (Z)-3-methyl-2-(2-pentenyl)-2-cyclopenten-1-one
Volatility :

Heart/Base
Uses in perfumery :

Cis-Jasmone is used in floral notes (tuberose, jasmine, gardenia) and ambery notes. Supports Hedione® and brings depth and power to jasmine notes.
Year of discovery :

Data not available.
Other comments :

Dihydrojasmone has a slightlymore almond and less green smell than cis-Jasmone.
Price Range :

€€€
Stability :

Unstable in acidic products, except fabric conditioners, and in very alkaline detergents.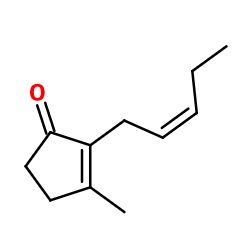 Crédits photo: ScenTree SAS
Molecular formula :

C11H16O

Molecular Weight :

164,25 g/mol

Density :

0,941

Flash Point :

121°C

Fusion Point :

Donnée indisponible.
Appearance :

Colorless liquid

Log P :

2,8

Boiling Point :

86°C

Detection Threshold :

2,9302 ng/l
Synthesis route :

A synthetic route of cis-Jasmone consists of a nucleophilic substitution reaction between 3-methyl-2-cyclopenten-1-one and cis-2-pentenyl chloride, in the presence of sodium hydroxide.
Synthesis precursor :

Cis-Jasmone is not a precursor to the synthesis of another compound of olfactory interest.
Isomerism :

The double bond guiding this cis-Jasmone conformation could also give rise to a trans conformation, depending on the synthesis conditions. The resulting smell would be much more earthy and close to mushroom.
EINECS number :

207-668-4

FEMA number :

3196

JECFA number :

1114

FLAVIS number :

07.094

Allergens :

This ingredient does not contain any allergen.

IFRA :

This ingredient is not restricted
To learn more about IFRA's standards : https://ifrafragrance.org/safe-use/library
ScenTree is solely responsible for the information provided here.