CAS N° :
119-61-9
Green > Crisp Green > Rosy > Metallic > Plastic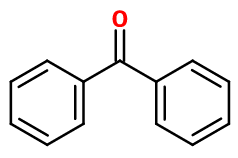 Crédits photo: ScenTree SAS
Other names :

Adjutan 6016 ; Benzoyl benzene ; Diphenyl ketone ; Diphenyl methanone ; Alpha-oxo diphenyl methane ; Kayacure BP ; Alpha-oxoditane ; Speedcure BP
Volatility :

Head/Heart
Uses in perfumery :

Benophenone is used in floral-lily of the valley, rosy and sometimes floral-watery notes (hyacinth…), and in fruity-cherry notes.
Natural availability :

Benzophenone is a compound of the scent principle of grapes, black tea and papaya among others. In perfumery, it is used exclusively in its synthetic form.
Year of discovery :

Data not available.
Other comments :

Benzophenone has a plastic note distinctive to Diphenyl Oxide.
Price Range :

€
Stability :

Stable in perfumes and in diverse functional bases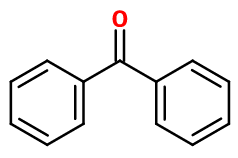 Crédits photo: ScenTree SAS
Molecular formula :

C13H10O

Molecular Weight :

182,22 g/mol

Density :

1,1

Flash Point :

145°C

Fusion Point :

49°C
Appearance :

White crystals

Log P :

3,18

Boiling Point :

306°C

Detection Threshold :

Donnée indisponible.
Synthesis route :

Benzophenone can be synthesized by a Friedel-Craft reaction from benzene by reaction with benzoyl chloride in the catalytic presence of aluminum chloride (Lewis acid). Another method consists in reacting benzene with tetrachloromethane, forming alpha,alpha-dichlorodiphenylmethane, which can be hydrolysed to Benzophenone. A last method is to oxidize diphenylmethane.
Synthesis precursor :

Benzophenone is not a precursor for the synthesis of another compound of olfactory interest.
Isomerism :

Benzophenone does not have any isomer commonly used in perfumery.
EINECS number :

204-337-6

FEMA number :

2134

JECFA number :

831

FLAVIS number :

07.032

Allergens :

This ingredient does not contain any allergen.

IFRA :

This ingredient is not restricted
To learn more about IFRA's standards : https://ifrafragrance.org/safe-use/library
ScenTree is solely responsible for the information provided here.
Do you sell any of the raw materials? Would you like to let our users know?
Send an email to fournisseurs@scentree.co to learn about our advertising opportunities.