Ambrettolide
Naturelle - Synthétique
CAS N° :
28645-51-4
Musky > Berries > White Flowers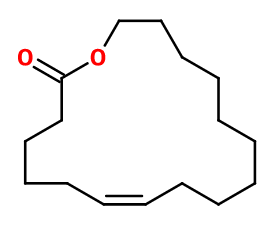 Crédits photo: ScenTree SAS
Other names :

17-oxacycloheptadec-6-en-1-one ; Isoambrettolide ; Ambrettozone ; Oxacycloheptadec-10-en-2-one ; Hexadec-9-en-1,16 lactone ; Lanbrettolide ; Moschus lactone ; Scentolide
Volatility :

Base
Uses in perfumery :

Ambrettolide allows to bring a sensual and carnal facets. Enhances floral-violet notes from the top.
Only used in fine fragrance because of its price. Gives a lot of power to floral notes.
Natural availability :

Ambrettolide is found naturally in angelica sap and in Ambrette Seeds Absolute, from which it is extracted in its natural state.
Year of discovery :

Discovered in 1927.
Other comments :

Among other musks, Ambrettolide is comparable to Helvetolide® and Velvione® thanks to its white flowers facet.
Price Range :

€€€
Stability :

Musks are very stable, as in alcoholic and in functional fragrances, exept in acid cleaners, antiperspirants and bleaches.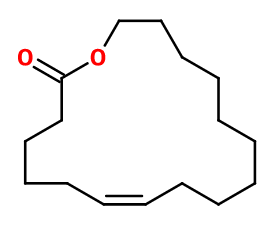 Crédits photo: ScenTree SAS
Molecular formula :

C16H28O2

Molecular Weight :

252,4 g/mol

Density :

0,956

Flash Point :

99°C

Fusion Point :

Donnée indisponible.
Appearance :

Colorless liquid

Log P :

6,51

Boiling Point :

187°C (à 21 hPa)

Detection Threshold :

0,3 ng/L air
Synthesis route :

Ambrettolide is synthesized by reaction between aleuritic acid and trimethyl orthoformate. A second step consists in reacting the intermediate product that is obtained during the previous process with acetic anhydride, and potassium hydroxide afterwards, to cyclize the second intermediate product and obtain the final product.
Synthesis precursor :

Ambrettolide is not a precursor to the synthesis of another compound of olfactory interest.
Isomerism :

Ambrettolide has a double bond, creating two possible diastereoisomers (Z) and (E). The Ambrettolide used in perfumery is a racemic mixture of these two isomers. Both diastereoisomers have a similar smell.
EINECS number :

249-120-7

FEMA number :

4145

JECFA number :

1991

FLAVIS number :

10.063

Allergens :

This ingredient does not contain any allergen.

IFRA :

This ingredient is not restricted
To learn more about IFRA's standards : https://ifrafragrance.org/safe-use/library
ScenTree is solely responsible for the information provided here.