Alpha-Irone
Naturelle - Synthétique
CAS N° :
79-69-6
Floral > Powdery Flowers > Violet Flower > Orris Root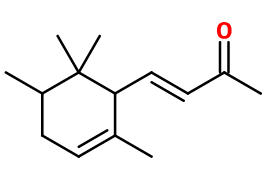 Crédits photo: ScenTree SAS
Other names :

(E)-4-(2,5,6,6-tetramethyl-1-cyclohex-2-enyl)but-3-en-2-one ; 6-methyl-alpha-ionone ; 4,2,5,6,6- trimethyl-2-cyclohexen-1-yl-3-buten-2-one
Volatility :

Heart/Base
Uses in perfumery :

Alpha-Irone is used in orris root and violet flower notes. Ionones are more used because they are cheaper. To be combined with woody-ambery notes, such as Iso E Super. Gives tenacity.
Natural availability :

The only plant extract capable of providing natural Irones is Orris Root Butter (or any other orris root extracts). Therefore, its cost is very high, and these compounds are preferrably obtained by organic synthesis.
Year of discovery :

Discovered in 1892. Irones have been discovered before Ionones. The discovery of Ionones was made starting from Irones, isolated from orris butter. Ionones were discovered randomly, when a laboratory assistant added sulfuric acid to dishwash a glass containing a wrong intermediary to irone synthesis. Structural discovery in 1943.
Other comments :

Comparing it to Alpha-Ionone or Beta-Ionone for example, Alpha-Irone has a powerful orris root note.
Price Range :

€€€€€
Stability :

Exclusively stable in shampoo and soap bases.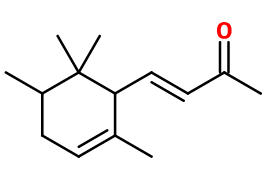 Crédits photo: ScenTree SAS
Molecular formula :

C14H22O

Molecular Weight :

206,33 g/mol

Density :

0,933

Flash Point :

131°C

Fusion Point :

Donnée indisponible.
Appearance :

Colorless liquid

Log P :

>3,80

Boiling Point :

110°C (à 4 hPa)

Detection Threshold :

7,373 ng/l
Synthesis route :

Unlike Ionones, Irones as Alpha-Irone are not synthesized from Citral, but by condensation of 3,6,7-trimethyl-octa-2,6-dienal (which has a branched citral in its sixth carbon) with acetone. The compound obtained is called Pseudoirone. Then, the cyclization of the molecule is the same as for Ionones, using several catalysts to promote the preferential formation of alpha-Irone, beta-Irone or gamma-Irone. Note that, for alpha-Irone, phosphoric acid is preferred.
Synthesis precursor :

alpha-Irone is not a precursor to the synthesis of another compound of olfactory interest.
Isomerism :

As for Ionones, the synthesis of Irones as Alpha-Irone gives rise to several isomers, although some are favoured by the choice of the catalyst during the cyclization of Pseudoirone. In the case of alpha-Irone, its purity can reach 90%. For example, beta-Irone has a softer smell but with the same iridescent and violet emphasis as alpha-Irone. Isoraldeine® and Cashmeran® are constitutional isomers of alpha-Irsone. Only Isoraldeine® has a close smell to violet-flower aspect of Irone.
EINECS number :

201-219-6

FEMA number :

2597

JECFA number :

403

FLAVIS number :

07.011

Allergens :

This ingredient does not contain any allergen.

IFRA :

This ingredient is not restricted
To learn more about IFRA's standards : https://ifrafragrance.org/safe-use/library
ScenTree is solely responsible for the information provided here.