Vetiver Haiti EO
Naturelle
CAS N° :
8016-96-4
Woody > Vetiver > Grapefruit > Nutty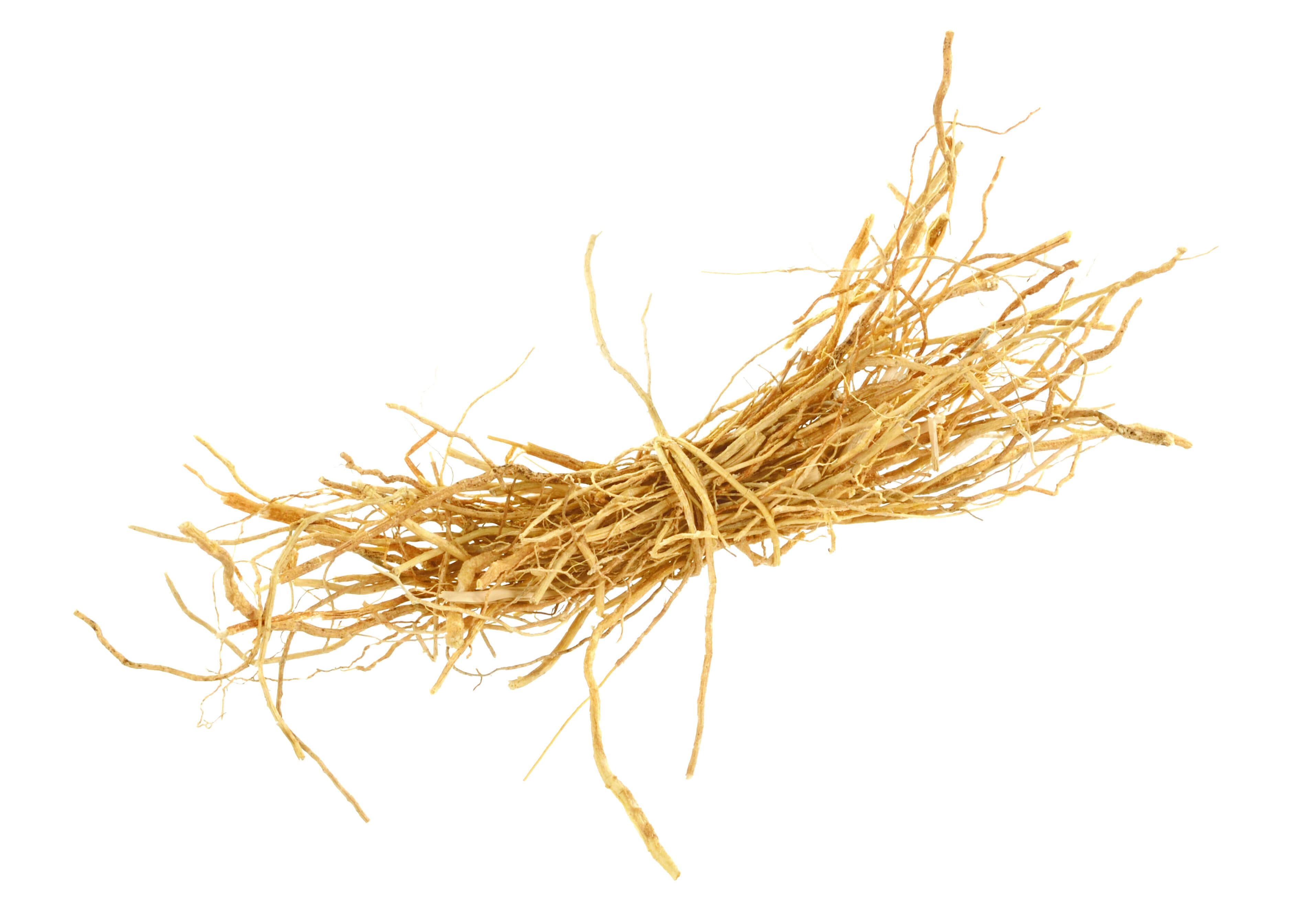 Crédits photo: ScenTree SAS
Latin name :

Chrysopogon zizanoides
Botanical profile :

Vetiver is the root of a plant of the Poaceae family and the Chrysopogon genus.
Geographic origin :

Originally from India, vetiver is now grown mainly in Haiti (Mostly in Les Cayes city), in Indonesia (Java Island), and also in Reunion Island (where the culture is nowaday disappeared due to a lack of space and available manpower). In a lesser extent, India, Madagascar, Brasil and china also produce vetiver but with lower volume and quality.
Chemotypes :

The genus Chrysopogon regroups 29 species of plants.
Vetiver (Chrysopogon zizanioides) is the only one cultivated for perfumery.
Vetiver Java EO has the most burned and strong smell. Vetiver Haiti EO has a better quality. We can also note the presence of Vetiver Bourbon EO, in very small quantities but known to have superior olfactory quality.
Extraction process :

Vetiver is a plant that can grow up to 2m high. It has long leaves and also very long roots. The massive cultivation of this plant is due to the roots. Its physical characteristics make vetiver particularly resistant to all climatic conditions, although it prefers a tropical or subtropical climate coupled with sandy and calcareous soil, which is conducive to root development.
Its harvest, whose period depends on the place of culture (from December to September for Haiti, from June to November for the bourbon vetiver), comes after about 1 year of culture, an optimal moment combining yield and quality.
Harvest & extraction process are complex and are defined in several stages:
1 - The leaves (aerial part) are clipped together to delimit the plants before the cut.
2 - The plants are unearthed and divided into 3 parts: The leaves (used for local handcrafts) - The stump (space between the leaves and the roots. This will be replanted immediately for the next crops) - The roots (grouped together for the next steps of the process)
3 - The roots (underground part) are then shaken and washed to remove the soil. Then, they are gathered in a bale to be taken to the factory. Washing is an important step. It avoids distilling soil, leaves or debris that could decrease the essential oil quality. This washing is done by shaking the roots and/or by introducing them into a sort of drum (like a dry washing machine) which will, thanks to its successive rotations, separate the debris/earth from the roots.
4 - The root is dried for 2 to 3 days and then water-distilled. The distillation lasts about ten hours. The essence is then recovered in a decanter.
5 - At the end of the distillation process, 3 phases are formed in the decanter. The phase located at the top is the vetiver EO. Below is the water of distillation and then, still below, the heavy fraction of the EO. The latter contains the heaviest components with an earthy, smoky smell. Usually the two phases of EO are grouped together, but sometimes they are not, it usually depends of the customer's request, depending on the olfactory finesse and price searched for. It also happens that a centrifugation step is necessary to release water bubbles trapped in the EO. The yield is 1% on average (with a better yield for the Vetiver Java EO). For Vetiver Bourbon EO, after 5 hours, the light fraction is recovered and separated from the water by decantation, then the heavy fraction is recovered on sheep's wool, which is impregnated with it.
Note that the younger the root, the better the extraction yield, but the quality of the essential oil is then less good.
The root is also extractable with volatile solvents, to obtain an absolute, much less used in perfumery. On the other hand, it is very common to carry out fractional distillation from Haiti Vetiver HE. These additional distillations are generally carried out by the formulating companies in order to obtain very precise products such as Vetiver Heart, Vetiver MD, Vetiveryl Acetate etc...
Major Components :

Khusimol (10-15%)
Isovalencenol (10-12%)
Alpha-Vetivone (≈4%)
Beta-Vetivone (≈4%)
Beta-Vetivenene (≈2%)
Alpha-Amorphene (≈2%)
Beta-Vetispirene (≈1%)
Not all the composition of a Vetyver oil is identifiable.
Crédits photo: ScenTree SAS

Uses in perfumery :

Useful for woody, chypre, oriental compositions. Vetiver is an essential oil that is used extensively to provide duration. Brings both woody and dry, peanut, grapefruit, smoky, almost roasted notes. It is generally highlighted in men's perfumery (many juices even have the word ''Vetiver '' in their name) but, although it is more discreet, vetiver is also present in women's perfumery.
Much more used than Vetiver Java EO.

Other comments :

Vetiver in Haiti is a real economical stake, hiring thousands of farmers and making a 30 million dollars income each year for the island. 50% of vetiver oil consumed in the world comes from Haiti. This country suffers from a few dificulties, that created a vetiver crisis : an earthquake in 2010, a few hurricanes and the police force deployed by the UNO (UNSTAMIH), which no longer acts for Haiti. Vetiver business is nevertheless surviving, and is best loved by perfumers.
Vetiveryl Acetate and Vetiverol, often of natural origin, can be obtained from the essential oil. Both are mixtures of molecules called Khusimol (or Khusimyl Acetate) and its isomer.
The genus Chrysopogon is more accurate for vetiver. Formerly, this genus was not distinguished from the genus Vetiveria, much less used today.
Sometimes, Vetiver is also called cuscusgrass, coming from the arabic ''khus-khus ''.

Volatility :

Base

Appearance :

Yellow liquid

Stability :

The terpenes identified in this raw material can polymerize when they are oxidized

Price Range :

€€€€

Aromatherapy :

Informations provided below are taken from reference works in aromatherapy. They are given for information purposes only and can not constitute medical information, nor engage the responsibility of ScenTree.

Vetiver is known for its blood circulatory and immunostimulatory virtues. It is therefore recommended in cases of immunodepression and vasculitis.
EINECS number :

84238-29-9

FEMA number :

Donnée indisponible.

Allergens :

This ingredient does not contain any allergen.

IFRA :

This ingredient is restricted by IFRA

Annexe I :

Some regulated synthetic ingredients are found in nature and in certain proportions in natural ingredients. This presence in nature has to be taken into account when calculating limits of use recommended by the IFRA. In case you do not know these concentrations, you can use the ones estimated by the IFRA. Here they are :

List of regulated compounds contained in this ingredient
Regulated ingredient name
CAS N°
Estimated Concentration
Cedrene
11028-42-5
0,3
alpha-Cedrene
469-61-4
0,2
beta-Cedrene
546-28-1
0,1

This ingredient is not restricted for the 48th amendment
To learn more about IFRA's standards : https://ifrafragrance.org/safe-use/library
ScenTree is solely responsible for the information provided here.