Triethyl Citrate
Natural - Synthetic
CAS N° :
77-93-0
Solvents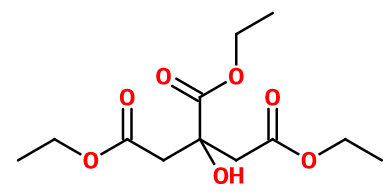 Crédits photo: ScenTree SAS
Other names :

TEC ; Citroflex 2 ; Diethyl 3-(ethoxycarbonyl)-3-hydroxypentane-1,5-dioate ; Ethyl citrate ; Eudraflex ; Hydragen cat ; Triethyl 2-hydroxy-1,2,3-propane tricarboxylate ; Uniplex 80
Volatility :

NON TROUVE_N/A
Uses in perfumery :

Triethylcitrate is a solvent commonly found in perfume concentrates, as it is mainly used to dilute raw materials that are too viscous or pasty to be used as they are.
Natural availability :

Triethyl Citrate is naturally present in cabbages and some white wines. Natural Triethyl Citrate is synthesized by hemi-synthesis using natural citric acid (lemon extract, for example) and ethanol.
Year of discovery :

Data not available.
Other comments :

Data not available.
Price Range :

€
Stability :

Data not available.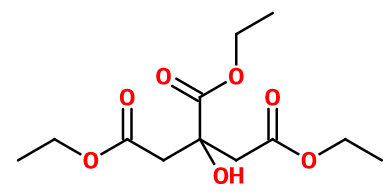 Crédits photo: ScenTree SAS
Molecular formula :

C12H20O7

Molecular Weight :

276.28 g/mol

Density :

1.14

Flash Point :

311°F (155°C)

Fusion Point :

Data not available.
Appearance :

Colorless liquid

Log P :

1.17

Boiling Point :

561.2°F (294°C)

Detection Threshold :

Data not available.
Synthesis route :

Triethyl Citrate is a triester of citric acid. It is therefore obtained by an extensive esterification of citric acid, by reaction with an excess of ethanol in the presence of an acid catalyst such as concentrated sulfuric acid. The end of the reaction can be evaluated by an acid-base titration: when the acid concentration is stable, the reaction is at equilibrium.
Synthesis precursor :

Triethyl Citrate is not a precursor to the synthesis of another compound of olfactory interest.
Isomerism :

Triethyl Citrate does not have any isomer used in perfumery.
EINECS number :

201-070-7

FEMA number :

3083

JECFA number :

629

FLAVIS number :

09.512

Allergens :

This ingredient does not contain any allergen.

IFRA :

This ingredient is not restricted
To learn more about IFRA's standards : https://ifrafragrance.org/safe-use/library
ScenTree is solely responsible for the information provided here.