CAS N° :
137-00-8
Woody > Sandalwood > Milky > Nutty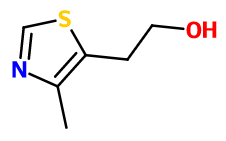 Crédits photo: ScenTree SAS
Other names :

Thiamine Thiazole ; 4-methyl-5-thiazoleethanol ; 4-methyl-5-thiazolethanol ; 2-(4-methyl-1,3-thiazol-5-yl)ethanol ; Hemineurine ; 5-hydroxyethyl-4-methyl thiazole ; 5-(beta-hydroxyethyl)-4-methyl thiazole ; Methyl thiazolyl ethanol ; Quesote ; Sulfulin
Volatility :

Head
Uses in perfumery :

Sulfurol is used in sandalwood and fruity notes, to sustain a milky and creamy effect, to bring sweetness and for rounding the note.
Natural availability :

Sulfurol is present in some grilled meats, in alcoholic beverages (cognac and whiskey among others), in Cocoa Absolut and in peanuts among others, from which it cannot be extracted. Only synthetic Sulfurol is used in perfumery.
Year of discovery :

1935
Other comments :

Sulfurol is part of the thiazole family. These are components with extremely low detection thresholds. Then, only a small quantity in composition can bring a significative effect.
Price Range :

€€
Stability :

As it can form Schiff bases by reacting with aldehydes, Sulfurol can be responsible for coloration in some perfume concentrates and in eaux de toilette, among others.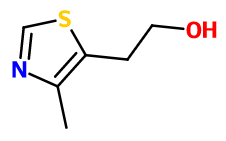 Crédits photo: ScenTree SAS
Molecular formula :

C6H9NOS

Molecular Weight :

143,21 g/mol

Density :

1,196

Flash Point :

112°C

Fusion Point :

Donnée indisponible.
Appearance :

Colorless liquid

Log P :

Donnée indisponible,

Boiling Point :

280°C

Detection Threshold :

Donnée indisponible.
Synthesis route :

Two ways of synthesis can be used to make Sulfurol. The first one is a reduction of 4-ethyl-5-methylthiazole acetate, by reacting with lithium aluminium hydride, a very strong reductor. Another synthesis route is a condensation reaction between thioformamide and bromoacetopropanol. In this second reaction, both molecules are fusing into a single one, in an acidic medium.
Synthesis precursor :

Sulfurol can be used to synthetise Schiff bases, but those are very rarely synthesized. These bases are made by a reactions between Sulfurol and various aldehydes or ketones.
Isomerism :

Sulfurol does not have any isomer commonly used in perfumery.
EINECS number :

205-272-6

FEMA number :

3204

JECFA number :

1031

FLAVIS number :

15.014

Allergens :

This ingredient does not contain any allergen.

IFRA :

This ingredient is not restricted
To learn more about IFRA's standards : https://ifrafragrance.org/safe-use/library
ScenTree is solely responsible for the information provided here.