CAS N° :
3407-42-9
Woody > Sandalwood > Milky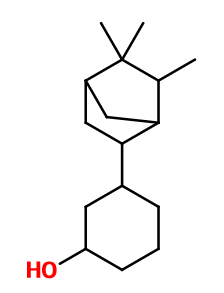 Crédits photo: ScenTree SAS
Other names :

Sandiff® ; 3-[5,5,6-trimethylbicyclo[2.2.1]hept-2-yl]cyclohexan-1-ol ; IBCH (IsoBornylCycloHexanol) ; RhodiantalTM IBCH ; Sandenol extra ; 3-(5,5,6-trimethyl-2-norbornyl)cyclohexanol
Volatility :

Base
Uses in perfumery :

Sandela® is used in woody notes and sandalwood reproductions. To be combined with Sandalore for more facets. This material is often 85% solubilized in Isopropyl Myristate before dilution in alcohol.
Natural availability :

Sandela® is not available in its natural state.
Year of discovery :

Data not available.
Other comments :

Sandela® is less powerful than Bacdanol® and milkier than Sandalore®.
Price Range :

€€
Stability :

Stable in perfumes and diverse functional bases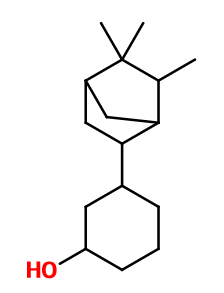 Crédits photo: ScenTree SAS
Molecular formula :

C16H28O

Molecular Weight :

236.4 g/mol

Density :

0.972

Flash Point :

305.6°F (152°C)

Fusion Point :

Data not available.
Appearance :

Colorless viscous liquid

Log P :

5.27

Boiling Point :

320°F (160°C) at 4 hPa

Detection Threshold :

Data not available.
Synthesis route :

Sandela® is part of a mixture of isomers synthesized by reaction between Camphene and Guaiacol, in the presence of a Lewis acid such as boron trifluoride. During this first stage, the Camphene undergoes a rearrangement in three forms: Isocamphyl, Isofenchyl and Isobornyl, which gives rise to the mixture of isomers. A high temperature catalytic hydrogenation of these derivatives allows to obtain a new mixture with more isomers. Indeed, the terpenic half of the final molecule may be in axial or equatorial position with respect to the other half of the molecule. 3-trans-Isocamphylcyclohexanol, corresponding to Sandela®, is one of the isomers of the mixture. It is isolated by a fractional distillation. Another method of synthesis starts from Cathecol rather than Guaiacol, and allows to obtain a greater proportion of Sandela® in the final mixture (especially if the hydrogenation step is made under high pressure and catalysed with cobalt).
Synthesis precursor :

Sandela® is not a precursor to the synthesis of another compound of olfactory interest.
Isomerism :

Sandela® is the only one of the isomers resulting from the synthesis described above to be odorous and to present a real interest for perfumery. Ambroxan®, Cedramber® and Muscenone® are constitutional isomers of Sandela®. Their smell can also be woody, or even musky. It is very different anyway.
EINECS number :

222-294-1

FEMA number :

Data not available.

JECFA number :

Data not available.

FLAVIS number :

Data not available.

Allergens :

This ingredient does not contain any allergen.

IFRA :

This ingredient is not restricted
To learn more about IFRA's standards : https://ifrafragrance.org/safe-use/library
ScenTree is solely responsible for the information provided here.