Sandalwood spicatum EO
Naturelle
CAS N° :
8024-35-9
Woody > Sandalwood > Dry Woods > Grapefruit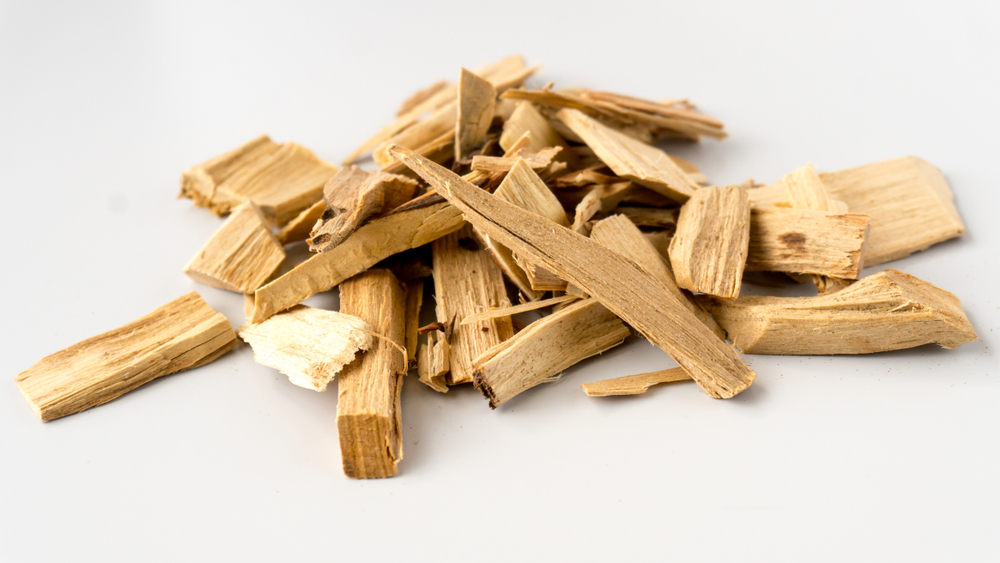 Crédits photo: ScenTree SAS
Latin name :

Santal spicatum
Botanical profile :

Tree of the family Sandalaceae and of the genus Santalum.
Geographic origin :

Originally from the region of Mysore, in India, the majority of the world's oil production is now produced in Australia. It is still cultivated in India but production is highly controlled to ensure the sustainability of resources. In the last few years, new origins have appeared- such as in New Caledonia, Ceylan, Tanzania and Vanuatu. These emergent cultures still generate low volumes and prices are still very high.
It is therefore quite normal that the majority of sandalwood on the market is from Australia.
Chemotypes :

For perfumery, 3 species of sandalwood are cultivated :
Santalum album : Sandalwood album EO. From India, historically, it is the most used but also the most controlated. Also present in north Australia
Santalum spicatum : Sandalwood spicatum EO. Imported from India by Australians to escape Indian trade constraints, this variety has acclimatised perfectly, particularly in an area called Old River Irrigation Area (ORIA), a semi-arid region of western Australia.
Santalum austrocaledonicum : Sandalwood New Caledonia EO. This specie was recently introduced into New Caledonia and Vanuatu, productions are still limited.

Other species are cultivated but volumes and qualities restrict their use by the perfume industry:
Santalum acuminatum : from Southern Australia.
Santalum lanceolatum : Northern sandalwood.
Santalum yasi : Fiji sandalwood.
Santalum paniculatum : Hawaiian sandalwood.

There are ''False sandalwood '' species of which one is widely used and produced in India at a lower cost and with a lower olfactory quality: the Amyris EO (Amyris balsamifera). This specie is distinguished from other tree species and used for its sandal-like smell. We can also mention Osyris tenuifolia from East Africa or Sandalwood from Madagascar (Coptosperma madagascariense), among many others.
Extraction process :

The sandalwood tree can grow up to 15 meters tall and live a century. Sandalwood is produced at low altitude, cultivated in a temperate climate and requires little drainage.
Sandalwood cultivation should be preferably done with trees of a certain age. From the age of seven, trees are cut at any time of the year. They are totally removed, instead of cutting them into their base. The next step is to lop the branches off and remove the leaves to conserve the trunk and the thick branches solely. Then the trees are sorted according to the content of their trunk: the heart of the trunk is of red-brown colour. The essential oil quality depends on the diameter of the trunk, the thicker the better. The third step is to strip off the bark from the trunk, using a debarking drum. Afterwards, the trunk can be crushed into chips for extraction.
The steam distillation of the chips takes place for 48 to 72 hours at atmospheric pressure. At the end of the process, the essential oil is collected in an essencier, at the refrigerant outlet? by decantation of the water.
The extraction yield of sandalwood ranges from 5 to 6%.
Major Components :

Santalol-alpha (15 - 25%)
Bisabolol-alpha (2 -12,5%)
Beta-santalol (5 - 20%)
Alpha-trans-bergamotol (2 - 10%)
Farnesol (2,5 - 10%)
Nuciferol (2 - 15%)
Lanceol (1 - 10%)

NF ISO 22769
Crédits photo: ScenTree SAS

Uses in perfumery :

Data not available.

Other comments :

In the past, Indian trees were cut only when they were dead. In order to meet the increasing demand in the 20th century, the Indian government had to allow premature cutting. This decision has had a considerable impact on the sustainability of the production. Several other constraints to cultivation can occur, such as forest fires and the long maturation period of the tree before cultivation. It has therefore been essential for India to considerably control its production and in particular its shipment. The Indian sandalwood is now registered in the red list of the IUCN ( International Union for Conservation of Nature) as it is so threatened with extinction.
The α and β-Santalol are present in large majority in the essential oil, which makes sandalwood the main precursor of these molecules in there natural state, today these molecules are mainly produced in laboratory. Research into the creation and production of molecules to work a sandalwood scent was intensified in the 1950s. Today there are a large number of attractive molecules.
In order to grow, sandalwood parasitizes the roots of nearby plants so that they contribute to its development. One such plant is Davana EO, which often grows at the foot of sandalwood trees in India.

In India, sandalwood is a symbol of protection and wish fulfilment... There is no ceremony in India without sandalwood where it symbolizes a myriad of gods. It is one of the four sacred woods (acacia- sassafras and teak).

Volatility :

Base

Appearance :

Yellow to brown liquid

Stability :

The terpenes identified in this raw material can polymerize when they are oxidized

Price Range :

€€€€€

Aromatherapy :

Informations provided below are taken from reference works in aromatherapy. They are given for information purposes only and can not constitute medical information, nor engage the responsibility of ScenTree.

Sandalwood essential oil has decongestant venous and cardiotonic properties and is recommended for varicose veins, small pelvis congestion and cardiac fatigue.
EINECS number :

296-618-5

FEMA number :

3005

Allergens :

This ingredient does not contain any allergen.

IFRA :

This ingredient is restricted by IFRA

Annexe I :

Some regulated synthetic ingredients are found in nature and in certain proportions in natural ingredients. This presence in nature has to be taken into account when calculating limits of use recommended by the IFRA. In case you do not know these concentrations, you can use the ones estimated by the IFRA. Here they are :

List of regulated compounds contained in this ingredient
Regulated ingredient name
CAS N°
Estimated Concentration
Farnesol
4602-84-0
11
alpha-Cedrene
469-61-4
0,2

This ingredient is not restricted for the 48th amendment
To learn more about IFRA's standards : https://ifrafragrance.org/safe-use/library
ScenTree is solely responsible for the information provided here.
Do you sell any of the raw materials? Would you like to let our users know?
Send an email to fournisseurs@scentree.co to learn about our advertising opportunities.