CAS N° :
82461-14-1
Fruity > Green Fruits > Green > Zesty > Rosy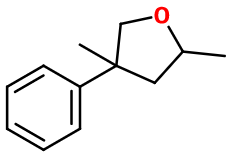 Crédits photo: ScenTree SAS
Other names :

2,4-dimethyl-4-phenyltetrahydrofuran ; Rhubafurlan ; Rhuboxide
Volatility :

Heart
Uses in perfumery :

Rhubafuran® is used in fruity and zesty notes, to bring a rhubarb facet and a heart reminiscent of Eucalyptus EO. It is a high-performance and stable ingredient, espacially in air freshners.
Natural availability :

Rhubafuran® is not found in nature. It is a captive molecule used exclusively under its synthetic form.
Year of discovery :

1980
Other comments :

This is a high-performance ingredient in all types of perfumes, bringing effectively its note, even being used in small quantity.
Price Range :

€€€€
Stability :

Very stable in perfumes and in all functional bases.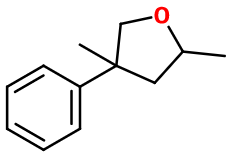 Crédits photo: ScenTree SAS
Molecular formula :

C12H16O

Molecular Weight :

176,26 g/mol

Density :

0,99

Flash Point :

>93°C

Fusion Point :

Donnée indisponible.
Appearance :

Colorless liquid

Log P :

3

Boiling Point :

246°C

Detection Threshold :

Donnée indisponible.
Synthesis route :

Data not available.
Synthesis precursor :

Rhubafuran® is not a precursor for the synthesis of another compound of olfactive interest.
Isomerism :

Rhubafuran® has two asymmetric carbons. This gives four possible stereoisomer couples for this molecules : (R,R), (S,S), (R,S) and (S,R). Nevertheless, it is a mixture of isomers that is used in perfumery.
EINECS number :

279-967-8

FEMA number :

Donnée indisponible.

JECFA number :

Donnée indisponible.

FLAVIS number :

Donnée indisponible.

Allergens :

This ingredient does not contain any allergen.

IFRA :

This ingredient is not restricted
To learn more about IFRA's standards : https://ifrafragrance.org/safe-use/library
ScenTree is solely responsible for the information provided here.
Do you sell any of the raw materials? Would you like to let our users know?
Send an email to fournisseurs@scentree.co to learn about our advertising opportunities.