Phenylacetic Acid
Naturelle - Synthétique
CAS N° :
103-82-2
Floral > Rosy > Honeyed > Butyric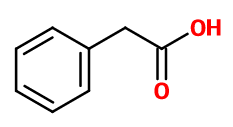 Crédits photo: ScenTree SAS
Other names :

Phenyl Acetic Acid ; 2-phenylacetic Acid ; Benzene acetic acid ; Benzyl carboxylic acid ; Toluic acid
Volatility :

Heart
Uses in perfumery :

Phenylacetic Acid gives a honeyed and sweet touch to a rose note.
Natural availability :

Phenylacetic Acid is present in Tobacco Absolute, Cocoa Absolute and chicory from which it can be extracted in small quantities. Synthetic Phenylacetic Acid remains the most produced and used in perfumery.
Year of discovery :

1885
Other comments :

In comparison with Phenyl Ethyl Alcohol, Phenylacetic Acid brings a more butyric and honeyed facet, but less pleasant and directly reminiscent of rose.
Price Range :

€
Stability :

Très stable en eau de toilette.
Most of the time, the occurrence of a benzenic cycle in a molecule causes a coloration of this molecule through time
Acids may lowen a perfume's pH. An acid pH can help preserving a perfume, but can also be the source of other raw materials modification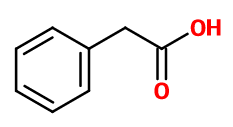 Crédits photo: ScenTree SAS
Molecular formula :

C8H8O2

Molecular Weight :

136,14 g/mol

Density :

1,08

Flash Point :

132°C

Fusion Point :

77°C
Appearance :

White crystals

Log P :

1,4

Boiling Point :

265°C

Detection Threshold :

1 ppm (0,0001%)
Ce qui fait de lui un composé moins facilement détectable que l'Alcool Phényl Ethylique,
Synthesis route :

Phenylacetic Acid is obtained according to a synthetic route in two steps, that involves benzyl chloride with sodium cyanide, followed by a hydrolysis to obtain the corresponding acid.
Synthesis precursor :

Phenylacetic acid is the precursor for the synthesis of several esters called ''phenyl acetates '', by reacting it with an alcohol in the presence of a catalyst acid.
Isomerism :

Anisic Aldehyde and Methyl Benzoate are constitutional isomers of Phenylacetic Acid. However, their smell is not related.
EINECS number :

203-148-6

FEMA number :

2878

JECFA number :

1007

FLAVIS number :

08.038

Allergens :

This ingredient does not contain any allergen.

IFRA :

This ingredient is not restricted
To learn more about IFRA's standards : https://ifrafragrance.org/safe-use/library
ScenTree is solely responsible for the information provided here.
Do you sell any of the raw materials? Would you like to let our users know?
Send an email to fournisseurs@scentree.co to learn about our advertising opportunities.