Phenyl Ethyl Salicylate
Synthétique
CAS N° :
87-22-9
Floral > Light Flowers > Rosy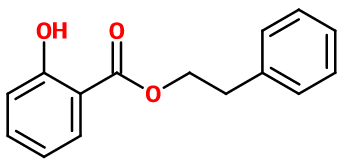 Crédits photo: ScenTree SAS
Other names :

Benzoate de 2-hydroxy-2-phenylethyl ; 2-hydroxy-2-phenylethyl benzoate ; 2-hydroxybenzoate de benzylcarbinyl ; Benzylcarbinyl 2-hydroxybenzoate ; Benzyl carbinyl salicylate ; Salicylate de benzylcarbinyl ; Salicylate de phenethyl ; Phenethyl salicylate ; Diethyl-1,2-dihydroxy-1,2-ethanedicarboxylate ; 1,2-dihydroxy-1,2-ethanedicarboxylate de diethyl
Volatility :

Heart/Base
Uses in perfumery :

Phenyl Ethyl Salicylate is sometimes used as a base note in floral bouquets, spicy-floral and balsamic perfumes, to make the link between a white flower and a rosy note for example. It brings volume, tenacity and a balsamic effect to a composition.
Natural availability :

No natural extract include Phenyl Ethyl Salicylate among their major components.
Year of discovery :

Data not available.
Other comments :

Phenyl Ethyl Salicylate is the only solid compound among other salicylates used in perfumes. On the other hand, it is the most rosy one. In comparision, Cis-3-Hexenyl Salicylate is used in green white flowers notes, and Benzyl Salicylate is used in jasmine notes for example.
Price Range :

€€
Stability :

My form Salicylic acid in stability.
Most of the time, the presence of an aromatic cycle in the molecule brings coloration through time.
Unstable in acidic products, except antiperspirants, and in very alkaline products.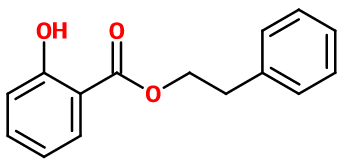 Crédits photo: ScenTree SAS
Molecular formula :

C15H14O3

Molecular Weight :

242,27 g/mol

Density :

1,15

Flash Point :

113°C

Fusion Point :

41°C
Appearance :

White solid

Log P :

Donnée indisponible,

Boiling Point :

370°C

Detection Threshold :

Donnée indisponible.
Synthesis route :

Phenyl Ethyl Salicylate can be synthesized in two ways. The first one is an interchange reaction involving Phenyl Ethyl Alcohol and Methyl Salicylate. The second synthetic route is an esterification reaction between Salicylic Acid and Phenyl Ethyl Alcohol. This reaction involves an acidic catalysis to raise its yield.
Synthesis precursor :

Phenyl Ethyl Salicylate is not used for the synthesis of another compound used in perfumes.
Isomerism :

Phenyl Ethyl Salicylate does not have any isomer used in perfumery.
EINECS number :

201-732-5

FEMA number :

2868

JECFA number :

905

FLAVIS number :

09.753

Allergens :

This ingredient does not contain any allergen.

IFRA :

This ingredient is not restricted
To learn more about IFRA's standards : https://ifrafragrance.org/safe-use/library
ScenTree is solely responsible for the information provided here.
Do you sell any of the raw materials? Would you like to let our users know?
Send an email to fournisseurs@scentree.co to learn about our advertising opportunities.