Paradisamide®
Synthétique
CAS N° :
406488-30-0
Fruity > Tropical Fruits > Sulfuric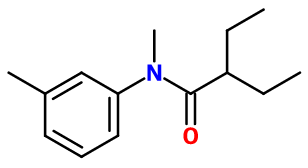 Crédits photo: ScenTree SAS
Other names :

2-ethyl-N-methyl-N-(3-methylphenyl)butyramide ; 2-ethyl-N-methyl-N-(meta-tolyl)butanamide
Volatility :

Base
Uses in perfumery :

Paradisamide® brings a tropical fruits base note, reminiscent of guava, passion fruit, with grapefruit, rhubarb and blackcurrant nuances. It can be used to bring a juicy effect to other fruity notes, and a floral aspect in shampoo and shower gel bases.
Natural availability :

Paradisamide® is not found in nature. It is thus impossible to find it in nature.
Year of discovery :

2001
Other comments :

Good synergy with Methyl Pamplemousse®, in 50/50 proportions (a cocktail of citrus and fresh spices, to boost rosy and spicy notes) ; with Methyl Laitone® in 20/80 proportions (tropical fruits).
Price Range :

€€€
Stability :

Very stable in perfumes and in all kinds of functional bases, except very alkaline bases as liquid bleach, or very acidic bases as some detergents.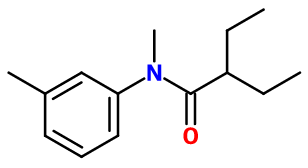 Crédits photo: ScenTree SAS
Molecular formula :

C14H21NO

Molecular Weight :

219,33 g/mol

Density :

0,97

Flash Point :

>93°C

Fusion Point :

Donnée indisponible.
Appearance :

Colorless liquid

Log P :

3,5

Boiling Point :

277°C

Detection Threshold :

1,2 ng/L
Synthesis route :

Paradisamide® is synthesized in two steps. The fist one in a monomethylation of meta-methyl-anilin, using trimethylorthoformiate, followed an acid hydrolysis, heating the pot. The intermediary product obtained is N(methyltoluidine. The second step consists in adding chloro-2-ethylbutyric acid on the intermediairy product, to get the final molecule : Paramisamide®.
Synthesis precursor :

Paradisamide® is not a precursor for the synthesis of another compound of olfactive interest.
Isomerism :

Paradisamide® does not have any isomer used in pefumery.
EINECS number :

446-190-2

FEMA number :

Donnée indisponible.

JECFA number :

Donnée indisponible.

FLAVIS number :

Donnée indisponible.

Allergens :

This ingredient does not contain any allergen.

IFRA :

This ingredient is not restricted
To learn more about IFRA's standards : https://ifrafragrance.org/safe-use/library
ScenTree is solely responsible for the information provided here.
Do you sell any of the raw materials? Would you like to let our users know?
Send an email to fournisseurs@scentree.co to learn about our advertising opportunities.