CAS N° :
41890-92-0
Woody > Sandalwood > Milky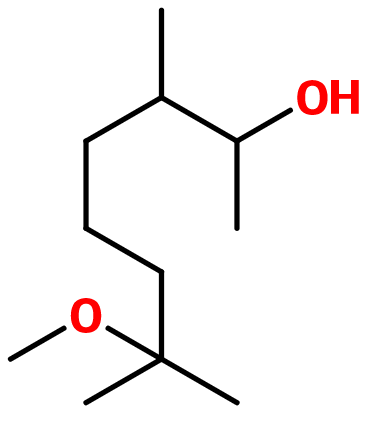 Crédits photo: ScenTree SAS
Other names :

Acsantol ; Dihydromethoxyelgenol ; 3,7-dimethyl-7-methoxy-2-octanol ; 3,7-dimethyl-7-methoxyoctan-2-ol ; Elesant ; 7-methoxy-3,7-dimethyloctan-2-ol ; Methoxyelgenol ; Methoxytrimethylheptanol ; Osirol ; Sandal octanol
Volatility :

Base
Uses in perfumery :
Natural availability :

Osyrol® is not reported as found in nature, and can thus not be extracted from any plant.
Year of discovery :

1972
Other comments :

Osyrol® is a milky sandalwood note that does not have a real distinctive undernote, as Javanol® and Sandalore® for example.
Price Range :

€€
Stability :

Stable in perfumes and various functionnal bases.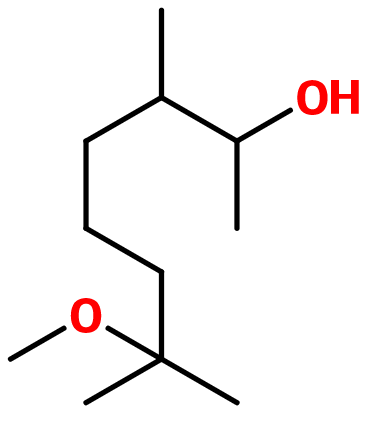 Crédits photo: ScenTree SAS
Molecular formula :

C11H24O2

Molecular Weight :

188,31 g/mol

Density :

0,9

Flash Point :

>110°C

Fusion Point :

8°C
Appearance :

Colorless liquid

Log P :

2,76

Boiling Point :

230°C

Detection Threshold :

Donnée indisponible.
Synthesis route :

Osyrol® synthesis is done starting from Dihydromyrcene, reacting it with hydrochloric acid during a hydrochlorination reaction. The obtained chlorinated compound undergoes methoxylation using methyl iodide, in the presence of lithium carbonate for example. Subsequently, an epoxidation reaction is carried out, reacting the remaining alcene function with a peracid, forming the epoxide. This epoxide can be hydrogenated in the presence of Raney nickel and trimethylamine, to obtain final Osyrol®.
Synthesis precursor :

Osyrol® is not a precursor for the synthesis of another material used in perfumery.
Isomerism :

Osyrol® has two asymmetric carbons. This gives birth to four possible isomers for this molecule. A mixture of these isomers is used in perfumery.
EINECS number :

255-574-7

FEMA number :

Donnée indisponible.

JECFA number :

Donnée indisponible.

FLAVIS number :

Donnée indisponible.

Allergens :

This ingredient does not contain any allergen.

IFRA :

This ingredient is not restricted
To learn more about IFRA's standards : https://ifrafragrance.org/safe-use/library
ScenTree is solely responsible for the information provided here.
Do you sell any of the raw materials? Would you like to let our users know?
Send an email to fournisseurs@scentree.co to learn about our advertising opportunities.