CAS N° :
16587-71-6
Woody > Dry Woods > Orris Root > Earthy > Nutty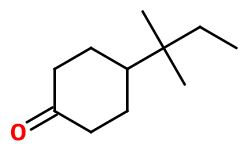 Crédits photo: ScenTree SAS
Other names :

Iris Hexanone ; Orris Hexanone ; 4-(2-methylbutan-2-yl)cyclohexan-1-one ; 4-tert-amyl cyclohexanone ; 4-tert-pentyl cyclohexanone ; 4-(1,1-dimethylpropyl)cyclohexanone ; Orris hexanone
Volatility :

Heart
Uses in perfumery :

Orivone® is used in majority in orris root accords. It can also be used in nutty, dry woods and leather accords, to bring a dry effect and an orris root and powdery note in small quantity.
Natural availability :

Orivone® is not found in nature.
Year of discovery :

1950
Other comments :

Orivone® is one of the key molecule reproducing the smell of orris root.
Price Range :

€€€€
Stability :

Stable in perfumes and in diverse functional bases.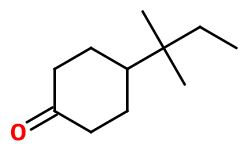 Crédits photo: ScenTree SAS
Molecular formula :

C11H20O

Molecular Weight :

168,28 g/mol

Density :

0,92

Flash Point :

104°C

Fusion Point :

Donnée indisponible.
Appearance :

Colorless liquid

Log P :

3,4

Boiling Point :

Donnée indisponible.

Detection Threshold :

Donnée indisponible.
Synthesis route :

Orivone® can be synthesized in one step from 4-tert-amylphenol, by a selective hydrogenation reaction, catalyzed by a heterogeneous catalysor such as palladium on alumina. 4-tert-amylphenol can be taken as a starting reagent, but it can also be synthesized first by an selective alkylation reaction from phenol, on a para position, reacting with amyl chloride, with a Lewis acid catalysor.
Synthesis precursor :

Orivone® is not a precursor to the synthesis of any other molecule used in perfumery.
Isomerism :

Orivone® is a constitutional isomer of Ethyl Linalool and so called Aldehyde C11 Lenic, but has no common facet with these two molecules.
EINECS number :

240-642-0

FEMA number :

Donnée indisponible.

JECFA number :

Donnée indisponible.

FLAVIS number :

Donnée indisponible.

Allergens :

This ingredient does not contain any allergen.

IFRA :

This ingredient is not restricted
To learn more about IFRA's standards : https://ifrafragrance.org/safe-use/library
ScenTree is solely responsible for the information provided here.
Do you sell any of the raw materials? Would you like to let our users know?
Send an email to fournisseurs@scentree.co to learn about our advertising opportunities.