Muguet Aldehyde
Synthétique
CAS N° :
7492-67-3
Aldehydes > Light Flowers > Citric > Metallic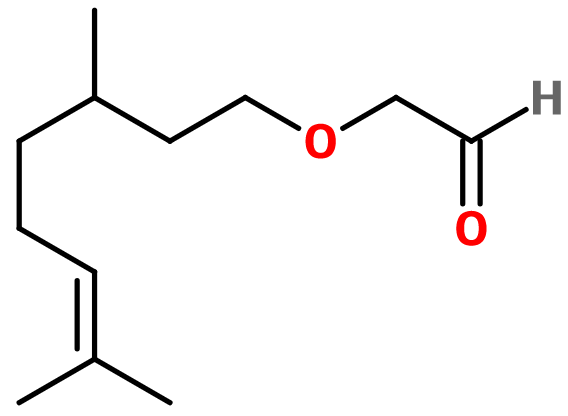 Crédits photo: ScenTree SAS
Other names :

((3,7-dimethyl-6-octenyl)oxy)-acetaldehyde ; Citronellyloxyacetaldehyde ; Citronelloxyacetaldehyde ; Aldehyde muguet ; 6,10-dimethyl-3-oxa-9-undecenal ; (3,7-dimethyl-6-octenyl) oxyacetaldehyde
Volatility :

Head/Heart
Uses in perfumery :

Muguet Aldehyde is used in floral-aldehydic and green notes of lily of the valley, to bring an aldehydic effect. It is over all used in functional perfumery.
Natural availability :

Muguet Aldehyde is not found on a natural state.
Year of discovery :

Data not available.
Other comments :

Muguet Aldehyde has a molecular structure and a smell close to Citronellol. It has a more metallic and citric note, close to Geraniol. Most of the time, this ingredient is diluted at 50% in DEP to facilitate its usage and to limit its olfactive power. Also foundable diluated in TEC or in BB.
Price Range :

Data not available.
Stability :

This molecule may form Schiff bases by reacting with Methyl Anthranilate or Indole for example, forming another colored and differently smelling compound.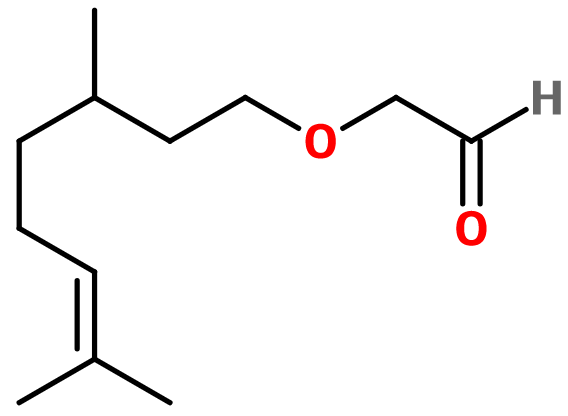 Crédits photo: ScenTree SAS
Molecular formula :

C12H22O2

Molecular Weight :

198,31 g/mol

Density :

0,97

Flash Point :

>94°C

Fusion Point :

Donnée indisponible.
Appearance :

Colorless liquid

Log P :

3,26

Boiling Point :

Donnée indisponible.

Detection Threshold :

Donnée indisponible.
Synthesis route :

Muguet Aldehyde is prepared by interaction between bromoacetals with sodium or potassium alcoholates.
Synthesis precursor :

Muguet Aldehyde is not a precursor for the synthesis of another compound of olfactive interest.
Isomerism :

As Citronellol, Muguet Aldehyde has one asymetric carbon. A mixture of its two enantiomers is anyway used in perfumery. It also is a constitutional isomer of Citronellyl acetate, having a close structure, but being weigh fruitier.
EINECS number :

231-324-2

FEMA number :

2310

JECFA number :

593

FLAVIS number :

05.079

Allergens :

This ingredient does not contain any allergen.

IFRA :

This ingredient is not restricted
To learn more about IFRA's standards : https://ifrafragrance.org/safe-use/library
ScenTree is solely responsible for the information provided here.
Do you sell any of the raw materials? Would you like to let our users know?
Send an email to fournisseurs@scentree.co to learn about our advertising opportunities.