Methyl Heptyl Ketone
Naturelle - Synthétique
CAS N° :
821-55-6
Fruity > Green Fruits > Butyric > Fatty > Etheric Solvent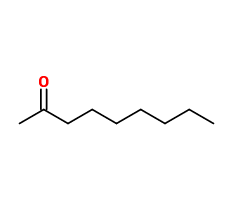 Crédits photo: ScenTree SAS
Other names :

2-Nonanone
Volatility :

Heart/Base
Uses in perfumery :

Data not available.
Natural availability :

Methyl Heptyl Ketone is present in fruits and spice such as banana, ginger, clove, coconut, tomato, corn, cheese, wine.. Thus, natural qualities are available
Year of discovery :

Data not available.
Other comments :

Data not available.
Price Range :

€€€
Stability :

Stable in perfumes and in diverse bases.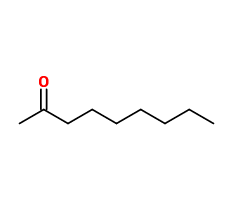 Crédits photo: ScenTree SAS
Molecular formula :

C9H18O   

Molecular Weight :

142,24 g/mol

Density :

0,82

Flash Point :

79°C

Fusion Point :

- 21 °C
Appearance :

Colorless liquid

Log P :

2,71

Boiling Point :

193°C

Detection Threshold :

Donnée indisponible.
Synthesis route :

Methyl Heptyl Ketone can be synthesized by dry distillation of Barium Caprylate and Barium acetate at very low pressure (0.5 to 2 mmHg). Another method for synthesizing this compound is to use chromic acid, reacting with methyl heptyl carbinol at room temperature, to oxidize the latter.
Synthesis precursor :

A condensation of this ketone with another ketone may form the desired alkene. Hydrogenation of Methyl Heptyl Ketone can form 2-nonanol, also relevant in perfumery.
Isomerism :

Methyl Heptyl Ketone is the constitutional isomer of Cinnamaldehyde, although these two molecules do not smell the same.
EINECS number :

212-480-0

FEMA number :

2785

JECFA number :

292

FLAVIS number :

07.020

Allergens :

This ingredient does not contain any allergen.

IFRA :

This ingredient is not restricted
To learn more about IFRA's standards : https://ifrafragrance.org/safe-use/library
ScenTree is solely responsible for the information provided here.
Do you sell any of the raw materials? Would you like to let our users know?
Send an email to fournisseurs@scentree.co to learn about our advertising opportunities.