Methyl Amyl Ketone
Naturelle - Synthétique
CAS N° :
110-43-0
Fruity > Green Fruits > Butyric > Mushroom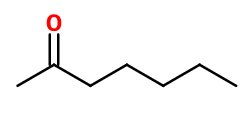 Crédits photo: ScenTree SAS
Other names :

2-Heptanone ; Amyl methyl ketone ; Butyl acetone ; Eastapure MAK ; Heptan-2-one ; Ketone C-7 ; MAK ; Methyl pentyl ketone ; Pentyl methyl ketone
Volatility :

Head
Uses in perfumery :

Methyl Amyl Ketone is used in fruity notes, lavender notes (in trace amounts to give power from the top) and spicy notes.
Natural availability :

Methyl Amyl Ketone is present in many plants and cheeses. The plant that contains the most is a green alga called Ulva Rigida. However, it is the synthetic Methyl Amyl Ketone which is most often used in perfumery.
Year of discovery :

Data not available.
Other comments :

Comparing it with Methyl Hexyl Ketone, the latter has a more earthy than mushroom smell, as does Methyl Amyl Ketone.
Price Range :

€€
Stability :

Stable in perfumes and diverse functional bases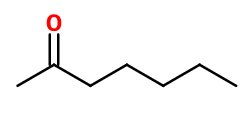 Crédits photo: ScenTree SAS
Molecular formula :

C7H14O

Molecular Weight :

114,18 g/mol

Density :

0,82

Flash Point :

46°C

Fusion Point :

-35°C
Appearance :

Colorless liquid

Log P :

1,98

Boiling Point :

150°C

Detection Threshold :

Son seuil de détection est entre 1 ppb et 1,33 ppm selon les personnes, et son seuil de reconnaissance est situé entre 2,66 ppm et 3,73 ppm (0,000373%),
Synthesis route :

Methyl Amyl Ketone is synthesized by a catalytic oxidation of 2-heptenol. This oxidation can be done in the presence of sodium hypochlorite at a high temperature, for example.
Synthesis precursor :

A hydrogenation of Methyl Amyl Ketone converts it to 2-heptanol, which also has an olfactory interest.
Isomerism :

When the ketone function of Methyl Amyl Ketone is relocated, the smell can radically change. For example, Ethyl Butyl Ketone has a greener, oily and fruity smell. Aldehyde C-7 is a constitutional isomer of Methyl Amyl Ketone, but has a totally different smell from the latter.
EINECS number :

203-767-1

FEMA number :

2544

JECFA number :

283

FLAVIS number :

07.002

Allergens :

This ingredient does not contain any allergen.

IFRA :

This ingredient is not restricted
To learn more about IFRA's standards : https://ifrafragrance.org/safe-use/library
ScenTree is solely responsible for the information provided here.
Do you sell any of the raw materials? Would you like to let our users know?
Send an email to fournisseurs@scentree.co to learn about our advertising opportunities.