Maltol
Naturelle - Synthétique
CAS N° :
118-71-8
Balsamic Ambery > Gourmand > Burnt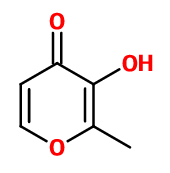 Crédits photo: ScenTree SAS
Other names :

3-hydroxy-2-methylpyran-4-one ; Corps praline ; 3-hydroxy-2-methyl-4-pyranone ; 3-hydroxy-2-methylpyrone ; Larixic acid ; Larixinic acid ; 2-methyl pyromeconic acid ; 2-methyl-3-hydroxy-4-pyrone ; 2-methyl-3-hydroxypyrone ; 2-methyl-3-oxidanyl-pyran-4-one ; Palatone ; Talmon ; Veltol ; Vetol
Volatility :

Base
Uses in perfumery :

Maltol is used in gourmet notes. Allows to bring a gourmet effect in woody, floral and fruity notes in particular, then bringing strength, character and sensuality. Often put aside in perfumery for the benefit of Ethyl Maltol. Both molecules can also be associated, but with a lower amount of Ethyl Maltol, compared to Maltol.
Natural availability :

Maltol is present in pine needles (Abies balsamea especially), beech wood and young larval wood (a conifer), from which it can be extracted in its natural state. It is produced by burning the wood and extracting the tar.
Year of discovery :

Data not available.
Other comments :

Maltol is less powerful than Ethyl Maltol. Both are often associated in perfumes with a smaller proportion of Ethyl Maltol.
Price Range :

€€
Stability :

Stable in perfumes and diverse functional bases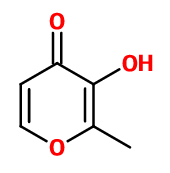 Crédits photo: ScenTree SAS
Molecular formula :

C6H6O3

Molecular Weight :

126,11 g/mol

Density :

1,35 g/cm³ (masse volumique)

Flash Point :

Donnée indisponible.

Fusion Point :

162°C
Appearance :

White solid

Log P :

1,16

Boiling Point :

285°C

Detection Threshold :

De l'ordre de 35 ppm,
Synthesis route :

Maltol is a molecule of the pyran family, synthesized from kojic acid, produced naturally by certain species of fungi.
Synthesis precursor :

Maltol is not a precursor to the synthesis of another compound of olfactory interest.
Isomerism :

Methyl Furoate is a constitutional isomer of Maltol. They both belong to families of molecules having olfactive similarities : furans and pyrans. Both families have foody and roasted notes.
EINECS number :

204-271-8

FEMA number :

2656

JECFA number :

1480

FLAVIS number :

07.014

Allergens :

This ingredient does not contain any allergen.

IFRA :

This ingredient is not restricted
To learn more about IFRA's standards : https://ifrafragrance.org/safe-use/library
ScenTree is solely responsible for the information provided here.