Jasmolactone®
Synthétique
CAS N° :
32764-98-0
Fruity > Lactonic > Yellow Fruits > Jasmine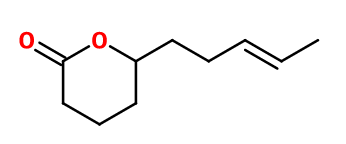 Crédits photo: ScenTree SAS
Other names :

Jasmalactone ; 6-(pent-3-en-1-yl)tetrahydro-2H-pyran-2-one ; Dec-8-eno-1,5-lactone ; 8-decen-5-olide ; Petal pyranone ; Tetrahydro-6-(3-pentenyl)-2H-pyran-2-one ; Tetrahydro-6-pent-3-enyl pyran-2-one
Volatility :

Base
Uses in perfumery :

Jasmolactone is used in luxury perfumery for reconstitutions of white flowers, for ambery notes and to give facets to a tea note.
Natural availability :

Jasmolactone is only present in trace amounts in Osmanthus Absolute, not allowing to obtain it in its natural state.
Year of discovery :

1961
Other comments :

Jasmolactone has a jasmine undernote that makes the difference with other lactones as Delta-Decalactone.
Price Range :

€€€€
Stability :

Lactones tend to polymerize through time, making them more viscous and leading to a phase shift in alcohol.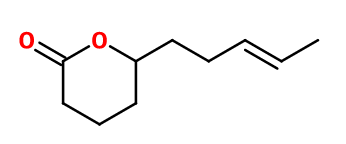 Crédits photo: ScenTree SAS
Molecular formula :

C10H16O2

Molecular Weight :

168,24 g/mol

Density :

1,01

Flash Point :

>110°C

Fusion Point :

Donnée indisponible.
Appearance :

Colorless liquid

Log P :

Donnée indisponible,

Boiling Point :

150°C (à 23 hPa)

Detection Threshold :

Donnée indisponible.
Synthesis route :

Like the other lactones, Jasmolactone, is synthesized by an intramolecular esterification reaction that involves 4-hydroxydec-8-enoic acid, in the presence of an acid catalyst. Then, the cyclization of this molecule gives rise to a δ-lactone.
Synthesis precursor :

Jasmolactone is not a precursor to the synthesis of another compound of olfactory interest.
Isomerism :

Another molecule is also called δ-Jasmolactone, but is synthesized from 4-hydroxydec-7-enoic acid, which places the double bond of the final product on another carbon aside. The smell of this isomer is similar to the Jasmolactone described here. Gamma-Jasmolactone has a more fatty smell, close to peanut. Methyl Laitone® is a constitutional isomer of Jasmolactone, but has a coconut-like smell and a lactonic body.
EINECS number :

251-201-7

FEMA number :

4441

JECFA number :

1994

FLAVIS number :

10.040

Allergens :

This ingredient does not contain any allergen.

IFRA :

This ingredient is not restricted
To learn more about IFRA's standards : https://ifrafragrance.org/safe-use/library
ScenTree is solely responsible for the information provided here.