CAS N° :
141773-73-1
Musky > Berries > White Flowers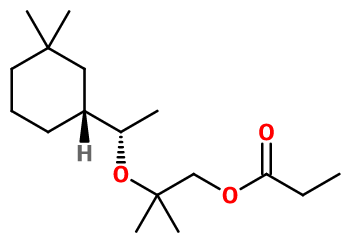 Crédits photo: ScenTree SAS
Other names :

2-[1-(3,3-dimethylcyclohexyl)ethoxy]-2-methylpropyl propionate ; Herbactolide
Volatility :

Base
Uses in perfumery :

Helvetolide is used in all kinds of perfumes (but espacially in fine fragrance because of its price) to bring a heady pear note and an Ambrette Seeds Absolute base note. It can be used as a fixative, with no cheap sub-effect. It is basically used as Musk T®, but brings more volume and tenacity to the fragrance.
Natural availability :

Helvetolide® does not exist on a natural state. It can't be extracted from a plant.
Year of discovery :

Discovered in 1990 by chemists Giersch and Schulte-Este.
Other comments :

Helvetolide® is the first acyclic musk ever used in perfumery. It participated to the opening of a new molecules category. After it, Romandolide®, Nebulone®, Edenolide® and Sylkolide® were synthesized.
Price Range :

€€€
Stability :

Stable in perfumes and in various functional bases.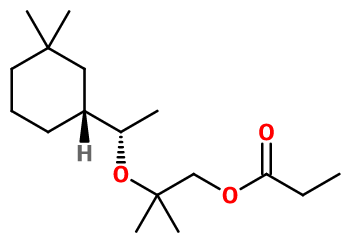 Crédits photo: ScenTree SAS
Molecular formula :

C17H32O3

Molecular Weight :

284,44 g/mol

Density :

0,94

Flash Point :

139°C

Fusion Point :

Donnée indisponible.
Appearance :

Colorless liquid

Log P :

5,46

Boiling Point :

347°C

Detection Threshold :

1,7 ng/L air
Synthesis route :

Data not available.
Synthesis precursor :

Helvetolide® can be used to synthesize Romandolide®, which is more powerful. This synthesis consists in replacing the dimethyl groupement of the ether function of Helvetolide®, by a carbonyle function, forming an ester.
Isomerism :

Helvetolide® used in perfumery is a mix of two isomers, due to the presence of two asymmetric carbons inside the molecule. The first one is dextrorotatory Helvetolide® (+), less floral but more musky than the other isomer. This is why it is often preferred as the other isomers, and sometimes used alone, isolated from levorotatory Helvetolide® (-).
EINECS number :

415-490-5

FEMA number :

Donnée indisponible.

JECFA number :

Donnée indisponible.

FLAVIS number :

Donnée indisponible.

Allergens :

This ingredient does not contain any allergen.

IFRA :

This ingredient is not restricted
To learn more about IFRA's standards : https://ifrafragrance.org/safe-use/library
ScenTree is solely responsible for the information provided here.